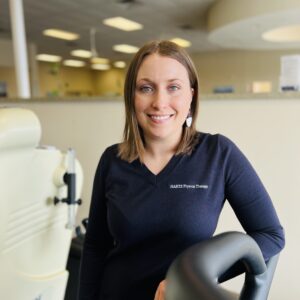 Amy Petraco, PTA
EDUCATION:  Bachelor of Science in Kinesiology from Penn State University | Associate of Science in Physical Therapy Assistant from California University of Pennsylvania
CONTACT:
apetraco@hartzpt.com
717.492.8708
What Makes Amy Special
Amy is one of our most versatile PTAs as she is cross trained in front desk duties as well. On a daily basis, Amy can be found doing 100 different tasks in the Mount Joy office, from checking in patients, to laundry, to cleaning the pool and of course, patient care.  There is no task in the Mount Joy office that Amy hasn't mastered and lucky for us she has a lot of energy!
Amy enjoys treating a wide variety of orthopedic injuries, although core stability and strengthening to prevent low back pain is of special interest to her.  Amy is also currently learning American Sign language.
When not in the office, Amy enjoys traveling, hiking and physical fitness.
Want to know more?  Here's a little Q & A…
Why did you choose to be a PT/PTA for your profession?
I enjoy the social aspect of getting to talk and work with different people every day. I was always active growing up and feel my best when active so naturally I chose a career where I get to do that every day.
What's something that has surprised you about your chosen career path?
I was surprised by the bonding one shares with their patient. It's a special process helping someone improve quality of life through hands on therapy and movement.
What energizes you at work?
Seeing patients excited and happy about the progress they have made.
What are you passionate about?
Food! I enjoy cooking as well as seeking out locally owned restaurants when I travel.
What is one thing that instantly makes your day better?
Starting my morning with a cup of coffee.
What's your favorite famous or inspirational quote?
"It is not the critic who counts; not the man who points out how the strong man stumbles, or where the doer of deeds could have done them better. The credit belongs to the man who is actually in the arena, whose face is marred by dust and sweat and blood; who strives valiantly; who errs, who comes short again and again, because there is no effort without error and shortcoming; but who does actually strive to do the deeds; who knows great enthusiasms, the great devotions; who spends himself in a worthy cause; who at the best knows in the end the triumph of high achievement, and who at the worst, if he fails, at least fails while daring greatly, so that his place shall never be with those cold and timid souls who neither know victory nor defeat." – Theodore Roosevelt.
What's your favorite place locally?
I love a good cup of coffee. Passenger in Lancaster city is my favorite spot for a good coffee and pastry.
Do you have a hidden talent? What is it?
I can jump rope while bouncing on a pogo stick.
What's the first concert you ever went to?
Slightly embarrassing -but my first concert was seeing Clay Aiken at the York Fair, shortly after his time on American Idol.
What's on your bucket list?
Traveling to all of the national parks in the country.
What's the farthest you've ever been from home?
Stuttgart, Germany.