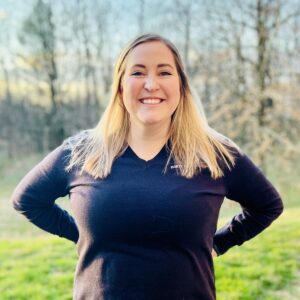 Elizabeth Franze, DPT
EDUCATION:  Doctorate of Physical Therapy from the University of Miami graduating Magna cum laude | Bachelor of Science in Kinesiology from Temple University
CERTIFICATIONS | SPECIALTIES: Liz is adept at treating orthopedic, foot & ankle rehabilitation, post-operative recovery, and helping geriatric patients improve their function.  However, her passion lies in Pelvic Health Dysfunction & treatment and she has taken numerous Herman & Wallace Pelvic Health courses.  Liz has formal training in internal and external examination which are necessary for the treatment of the pelvic floor. She has provided 1:1 care to countless local men & woman who are experiencing a variety of pelvic health dsyfunctions from prostate cancer & pregnancy to urinary and/or fecal incontinence to pelvic pain.
CONTACT:
efranze@hartzpt.com
717.492-8708
What Makes Liz Special
The leader of our Mount Joy team, Liz is one of our most thoughtful Clinic Directors. She is extremely accommodating for both her co-workers and patients in the Mount Joy office. Communication is key for Liz so figuring out ways she can better understand the needs of others helps her succeed in her role as CD of out Mount Joy office.  An avid reader, Liz is also passionate about continual learning and spearheads planning any internal educational opportunities for our staff members.  Out of the office, you may find Liz exploring campgrounds or performing yoga on the beach, but either way, she will always have a book close by!
Want to know more?  Here's a little Q & A…
Why did you choose to be a PT/PTA for your profession? 
I knew I would love being a PT because I would get to work with people and help them all while applying human anatomy and physiology.
If you weren't a PT/PTA what you be doing, especially if salary wasn't a concern?
Probably teaching anatomy and physiology at a university.
What professional accomplishment of yours are you most proud of?
Starting the Pelvic Health program at HARTZ PT.
What energizes you at work?
The interaction with my patients and coworkers.
Most important advice you give your patients? 
Trust the process and tune in to your body.
What is one thing that instantly makes your day better? 
Hearing about a patient reaching their goal or that symptoms are improving.
What's the best advice you were ever given? Who was it from?
"Being clear is kind"- I can't remember!
Where would you be right now if you had zero obligations and money didn't matter?
On a hike somewhere in the southern hemisphere enjoying SUMMER weather!
What are you passionate about?
Learning more and more about the human body!
What's your favorite place locally?
Hudson's Botanical Cafe in Smoketown! Awesome food and ambiance.
Do you have any pets?
Two little brother cats! An orange cat named Clementine and his chill, grey, brother, Zen.
What's on your bucket list?
Going to all 7 continents.  I have Asia coming up and the Antartica &  Australia left to go!
What do you do for fun?
Hike, camp, spend time with friends and family
What's the farthest you've ever been from home?
South Africa!