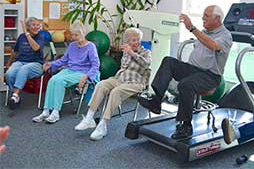 Fear of falling can lead to a decline in mobility and decreased activity levels, which often means decreased independence and quality of life. Improving balance and mobility can effectively lower your risk for falls and the resulting decline in health that often goes hand-in-hand.
At HARTZ Physical Therapy's Lancaster-East office, we offer weekly classes, called Better Bones, Better Balance, which will teach participants innovative exercises focusing on improving balance and mobility, increasing confidence, and inspiring continued activity and growth beyond each session. This comprehensive program includes education regarding risk factors and prevention of falls, as well as a diverse exercise approach.
Exercises are geared towards achieving:
1. Improved awareness to identify the risk factors of falling
2. Ability to walk more confidently and steadily
3. Increased lower extremity strength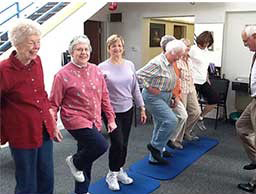 Exercises are all modified to accommodate a variety of ability levels.
Classes are held Tuesdays
from 12pm – 1pm
$10 per class or 6 classes for $50.00
All are welcome!  If it is your first time attending the class, please call to register 717-396-7766.  Otherwise, no appointment is needed!