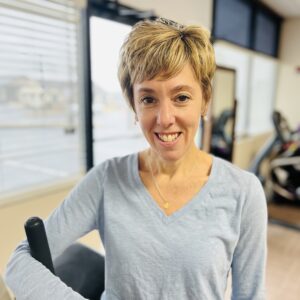 Lori Kerr, PTA
EDUCATION:  Bachelor of Science in Social Work from Penn State University | Associates of Science in Physical Therapy Assistant from PA Institute of Technology
CERTIFICATIONS | SPECIALTIES:  Member of the American Physical Therapy Association (APTA), and of the Pennsylvania Physical Therapy Association (PPTA).
CONTACT:
lkerr@hartzpt.com
717.738.0004
A HARTZ PT team member since 2017, Lori started working with Dave in the Lititz office and moved with him to Ephrata when he became Clinic Director.  Loosely dubbed the "dream team," Dave and Lori work together cohesively to provide their patients with excellent patient care. Lori is an avid runner and has been known to get a little cranky when she can't get her runs in.  A former professional chef, Lori is the mastermind behind the amazing food spread at our annual 5K, the Fall Blast.  She also has a few recipes up her sleeve when it comes to getting her patients on the road to recovery!
When not at the office, Lori enjoys spending time with her husband and her two sons, as well as cooking and or course…running.
Want to know more?  Here's a little Q & A…
Why did you choose to be a PT/PTA for your profession?
Prior to becoming a PTA, I was sidelined with a running injury.  The care and compassion I received at HARTZ had me back to running in a few short weeks.  The ability to help a person get back to doing the things that make life meaningful left a lasting impression on me. When I was considering a career change my experience at HARTZ was certainly a contributing factor in my decision to pursue a PTA degree.  Added bonus, after graduation I was able to join the HARTZ PT family!
What professional accomplishment of yours are you most proud of?
I returned to school in my late forties to become a PTA.  I graduated Cum Laude and was hired by HARTZ PT before I took my state boards!
What energizes you at work?
When patients arrive and are so excited to share their progress as well as small milestones.  Such as, "I went down the steps like a normal person." or "I was able to get down on the floor to play with my grandkids. "
Most important advice you give your patients?
It will get better, you just need to be patient and keep moving.
What is one thing that instantly makes your day better?
A smile, hug or an unexpected text from a friend or loved one.
Where would you be right now if you had zero obligations and money didn't matter?
Living part time in Italy with my husband and hiking through Europe.
What's your favorite famous or inspirational quote?
Exercise can replace many medications but no medication will ever replace exercise.
What's your favorite place locally?
Quips Pub for casual nights out and the Belvedere for special occasions.
What are your hobbies?
Running, biking, hiking, cooking and travel.
Favorite Sport to watch?  Who's your team?
Watching Penn State football and the Steelers with my husband and boys.  Of course I always prepare game day food!
What's one thing most people don't know about you?
I was a Personal Chef prior to becoming a PTA.  I  owned / ran Custom Cuisine Personal Chef Service for 15 years.
How do you like to start or end your day?
I start my day with exercise, prayer and coffee.  Not always in the same order 😉
What's something you've done, but you'll never do again?
Skiing
What's on your bucket list?
A trip to the Holy Lands with my husband.