(See more reviews on our Facebook page and check out our Google reviews as well!)
"The Ephrata office was AWESOME!  This is the first time I have ever had to go to physical therapy.  I was quite nervous.  However, the staff at the Ephrata office was welcoming, informative and, by the time I was finished, family."
~ Angela G.
 "Megan is an excellent PT. She is professional and kind. She tries different approach to the problem to get the best results. Never pushes you past the pain. Megan explains the whys of what she is doing. I appreciate the way she approaches physical therapy. I would ask for her again when needed."
~ Carol P.
The Physical Therapists are very knowledgeable in understanding the body and where the source of the pain is.  I am feeling much better and have made some adjustments in my everyday life to hopefully keep my pain away!
~ Sandy N.
"I have had excellent results with physical therapy by Hayden in the 5 previous years for a total of 4 problems. I am very happy with his professionalism and knowledge."
~ Judy M.
"I was discharged after 7 weeks and am totally blessed with the excellent care I received at HARTZ Physical Therapy.  I cannot put to words how wonderful a job Wayne and Wendy did for my recovery to this point.  Also, Kelly and Kelsey were very helpful.  I would highly recommend Hartz to anyone who needs physical therapy.  Just contact their amazing office staff and you are on your way!!"
~ John A.
Water therapy was suggested for me because of my overall arthritic condition. Previously with any PT, elsewhere, I would have to stop early because of the pain it created in my other arthritic joints. The water therapy was easier on my body and I did not have to stop early.  Brian was so caring and understanding and really took an interest in my well being. Brian and Kelly listened and adjusted the therapy accordingly if something bothered me.  Also, Missy is such a friendly, helpful and smiling person when you enter or call."
~ Charlene B.
"Hartz PT was amazing! They were my biggest cheerleaders throughout my long ordeal after my injuries. They advocated for me with my doctors and continued to search out the best care for me when we ran into obstacles. I would highly recommend them to anyone. Thank you!"
~ Rebekah J., Lititz
"Because of a family member's experience with Hartz, I knew I wanted to be treated by Hartz Physical Therapy and the care I received was fantastic. Thank you"
~ Florence P., Ephrata
"As a runner and triathlete, I greatly appreciate being seen by a fellow athlete.  I can't recommend HARTZ PT highly enough, and the entire staff at the Lititz office is super."
"The fact that I looked forward to going to therapy says it all. and the result speaks for itself."
~ Mike H.
"Each person's physical situation is unique. HARTZ understands that in physical therapy one size does not fit all. I've been to HARTZ PT after two joint replacements and for a rotation injury. HARTZ gets an A+ for working with me and teaching me to listen to my body. Thank you!"
~ Alice H.
"Thank you so much  for your excellent advice and therapy for my back and knee.  You and your  entire staff are amazing and I am so  thankful to have been able to receive treatment from THE BEST.  Everyone I  have ever contacted through Hartz not only does their jobs well, but they also  know how to make your clients feel special."
~ Bonnie K.
"From the minute you walk into HARTZ you are treated with the utmost respect. Everyone smiles and is so friendly. The amount of compassion that I received and helpfulness was wonderful! I cannot thank HARTZ and my therapist enough!"
~ Angie M.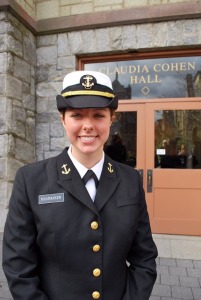 In 9th grade I had pain in my left shoulder while catching in softball and swimming competitively. I was referred to Brian because of his swimming experience and endless pool. We determined surgery to tighten my "loose" shoulder was necessary. After physical therapy with Brian and modifying my stroke, he got me back into the pool and I was once again able to swim competitively.
Recently he tested my shoulder strength for a military medical exam and I have 100% range of motion. I am now participating in Navy ROTC at the University of Pennsylvania, with no limitations in physical activities. I am forever grateful to he and his staff and highly recommend him to anyone needing physical therapy.
~ Leah H.
"I cannot say enough good things about Megan and HARTZ. You have succeeded in restoring my quality of life and for this I'll be eternally grateful."
~Dick W
VERTIGO TESTIMONIALS
"My vertigo was so bad, at one point it knocked me  off-balance and I ended up in the emergency room due to injuries from the fall.  I was put on medicine that didn't help a bit. My doctor even increased the dose  to try to make a difference, but the symptoms went on for well over a month. I went in to see Drew after I heard that physical therapy might be able to help. After just one visit my dizziness was completely gone. I wish I would have known about this option sooner."
~Eleanor Y.
"I suffered from dizzy spells many years back. About 5 years ago, I saw a magazine article on how  physical therapy can help these spells. I wasn't feeling any dizziness at that  time, but I cut out the article just in case. Last month when my dizziness  returned, I dug it out and then called HARTZ Physical Therapy. I got immediate  relief and was completely clear of symptoms after seeing Drew only once. He  even showed me what to do if it happens again. I have nothing but good things  to say!"
~Betty F.