Spring is right around the corner and so is our annual spring food drive, Feed the Need! We have once again opted to support Power Packs Project this spring.  We are accepting food donations at all offices through April 30th!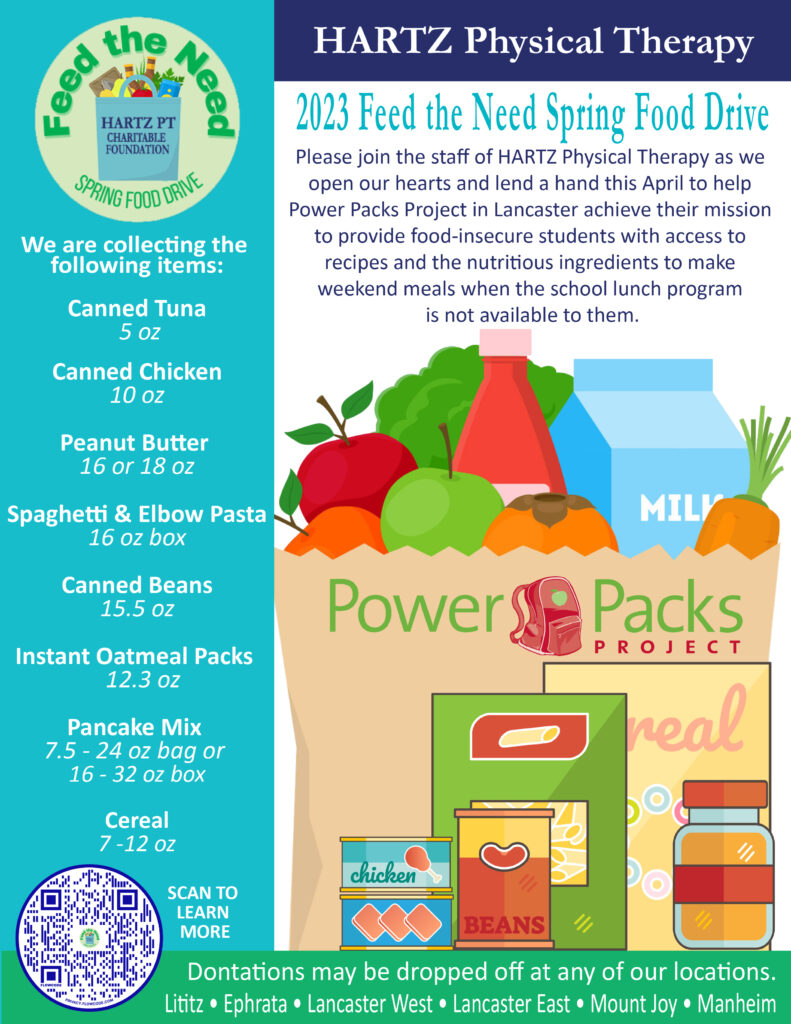 Thank you to all who donated items for our 8th annual Feed the Need spring food drive in support of Power Packs Project! We were delighted to drop off the donations and discovered that those donations helped provide over 2,500 meals to the community served by Power Packs!  We could not have done it without you!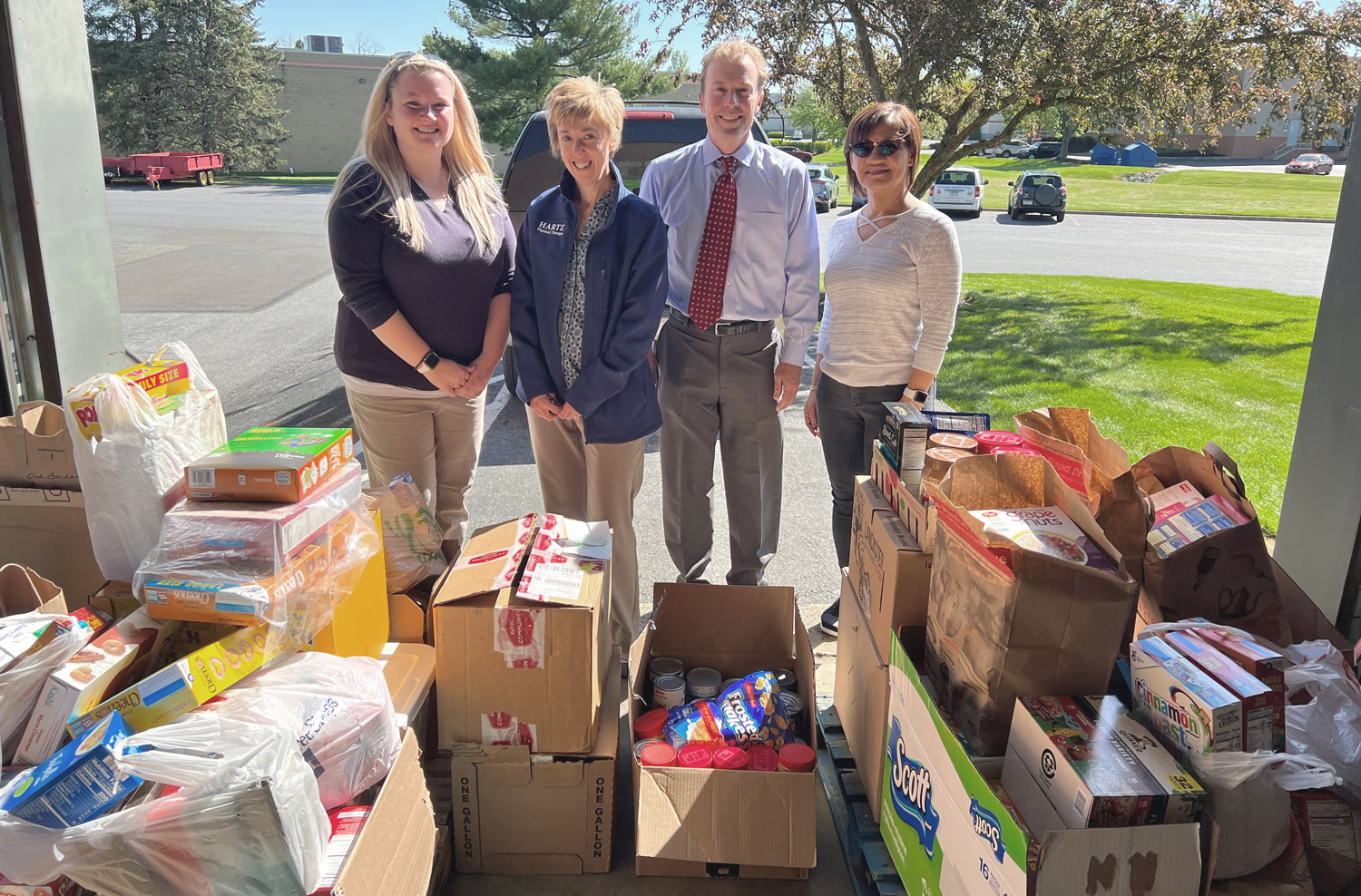 RESULTS FROM THE PREVIOUS FEED THE NEED SPRING FOOD DRIVES:
2021
The 7th Annual Feed the Need Food Drive to benefit Water Street Mission saw a new milestone in 2021, taking a hybrid approach by collecting both pantry donations and monetary donations. Organizers were thrilled to donate almost 1,000 pounds of food donated by staff and patients, as well as $1,549 of community donations.  In addition, HARTZ Physical Therapy matched community donations up to $1,500.
Organized by the staff of HARTZ Physical Therapy and held in April of each year, the food drive has donated over 17,000 pounds of food to Water Street Mission (WSM) over the past six years.
Water Street Mission's Business Ambassador, Sandy Gambone explained how this infusion of cash will support the services the community non-profit provides to the community. "COVID-19 has meant additional costs for added disinfecting, special PPE, and temporary staff to fill in on campus. Donations and Match programs such as Feed the Need help us to fill this gap and we are so grateful to HARTZ Physical Therapy and the community."
Water Street Mission is a privately-funded 501C3 organization that has been in existence for over 114 years. We offer hope to those experiencing poverty and homelessness by providing our guests with meals, shelter, and access to medical, dental, behavioral health, spiritual, and career support.  Also, the Outreach Food Pantry distributes food to 500 Lancaster County residents in need per week. In addition, Water Street serves children and youth through the Wonder Club Early Learning Center, Teen Haven, and various children's ministries.
– – – – – – – – – – – – – – – – – – – – – – – – – – – – – – – – – – – – – – – – – – – – – – – – – – – – – – – – – – – –
2020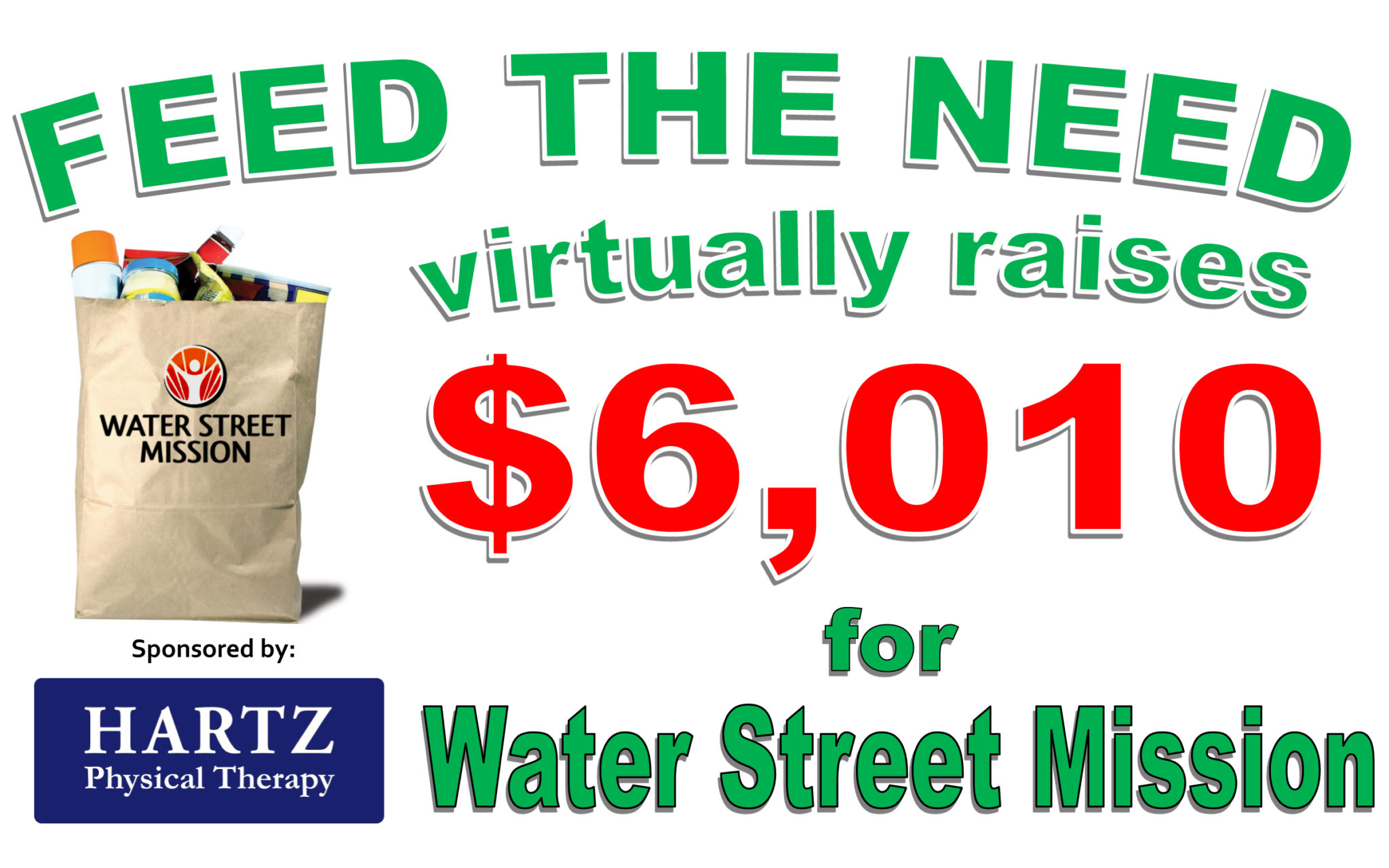 – – – – – – – – – – – – – – – – – – – – – – – – – – – – – – – – – – – – – – – – – – – – – – – – – – – – – – – – – – – – – –
2019