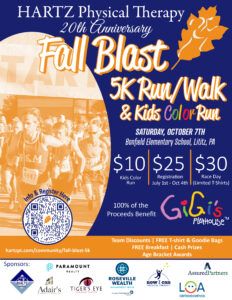 Join us October 7, 2023 for the 20th Annual Fall Blast 5K Run/Walk in Lititz, PA. This 3.1 mile course is relatively flat and takes place on the Warwick paved trail around the Pebble Creek development and the neighborhoods surrounding Bonfield Elementary School.  If you aren't able to join us the day of the event consider "Blasting from Home."
The race is scheduled to start promptly at 9 AM.  The Kid's Fun Color Run will be held immediately following the conclusion of the 5k. All proceeds from the event will benefit Gigi's Playhouse Lancaster
If you are interested in becoming a sponsor please email fallblask5K@hartzpt.com
2022 FALL BLAST 5K WRAP-UP

We were so honored on Saturday October 1st to have the support of so many community members for the 19th Annual Fall Blast 5K . Despite the rainy forecast, we got lucky and the rain held off for most of the morning!  Thank you to all our sponsors, participants and volunteers for your support this morning. We are beyond excited to tally the results and report the total raised for Bench Mark Program, an amazing community organization helping at risk youth right here, in Lancaster County! We will be announcing those final numbers on Friday, November 11th! Stay tuned!
Special thanks goes to our tireless Race Director, Wendy Enck, for hours upon hours of hard work to ensure this event runs without a hitch! Please check out our Facebook page for race day pictures, including finisher pictures. Tag your friends!
Please check out the results at the links below and save the date for the 20th Annual Fall Blast, scheduled for October 7, 2023.
Fall Blast History of Giving
Year
2023
2022
2021
2020
2019
2018
2017
2016
2015
2014
2013
2012
2011
2010
2009
2008
2007
2006
2005
2004
Charity
Gigi's Playhouse Lancaster
Bench Mark Program
Bench Mark Program
Off the Streets Lancaster
Off the Streets Lancaster
A Week Away
A Week Away
A Week Away
Girls on the Run
Girls on the Run
Power Packs Project
Power Packs Project
Aaron's Acres
Aaron's Acres
Aaron's Acres
Lancaster Science Factory
Lancaster Science Factory
Hospice of Lancaster County
Hospice of Lancaster County
Hospice of Lancaster County