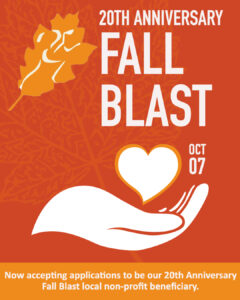 The staff of HARTZ Physical Therapy is excited to announce that we are accepting applications from Lancaster-County 501(c)3 non-profits who are interested in partnering with us for the 2023 Fall Blast 5K to be held Saturday October 7th in Lititz, PA!   The winning applicant will receive 100% of proceeds from the 2023 event. Total proceeds typically vary from $12,000 – $20,000, however will depend on the success of the event. Applications will be accepted through Friday March 31st.
APPLICANT REQUIREMENTS:
Applicants must be registered with the government as a 501(c)(3) organization, currently in good standing and compliant with all applicable non-profit laws.
Applicants must be headquartered in Lancaster County, or specifically earmark the funds to benefit Lancaster County initiatives.
Total annual revenue generated by the applicant cannot be greater than $2,500,000 in the most recently completed fiscal year.
Applicant agrees to provide a representative to attend monthly Fall Blast meetings (April – October). Meetings will take place once/month at HARTZ Physical Therapy. Representatives will participate and assist in the planning of the Fall Blast event, as needed, and report back to the beneficiary organization with progress and any requests for assistance.
Applicants must assist in marketing the event to their supporters to increase community exposure, participation and sponsorship opportunities
The Executive Director, CEO, or similar leader of the organization must be available on the following dates:
Finalist Presentations (15 mins each): Friday, April 14th at 3pm / 3:15pm / 3:30pm
Fall Blast 5K: October 7, 2023 from 8am-11am
Check Presentation: Date TBD following the event
Completed applications must be emailed to fallblast5K@hartzpt.com no later than March 31, 2023. Requested documents must be attached to the email in either word or pdf format.  Questions? Email fallblast5k@hartzpt.com
2022 FALL BLAST 5K WRAP-UP

We were so honored on Saturday October 1st to have the support of so many community members for the 19th Annual Fall Blast 5K . Despite the rainy forecast, we got lucky and the rain held off for most of the morning!  Thank you to all our sponsors, participants and volunteers for your support this morning. We are beyond excited to tally the results and report the total raised for Bench Mark Program, an amazing community organization helping at risk youth right here, in Lancaster County! We will be announcing those final numbers on Friday, November 11th! Stay tuned!
Special thanks goes to our tireless Race Director, Wendy Enck, for hours upon hours of hard work to ensure this event runs without a hitch! Please check out our Facebook page for race day pictures, including finisher pictures. Tag your friends!
Please check out the results at the links below and save the date for the 20th Annual Fall Blast, scheduled for October 7, 2023.
Fall Blast History of Giving
Year
2022
2021
2020
2019
2018
2017
2016
2015
2014
2013
2012
2011
2010
2009
2008
2007
2006
2005
2004
Charity
Bench Mark Program
Bench Mark Program
Off the Streets Lancaster
Off the Streets Lancaster
A Week Away
A Week Away
A Week Away
Girls on the Run
Girls on the Run
Power Packs Project
Power Packs Project
Aaron's Acres
Aaron's Acres
Aaron's Acres
Lancaster Science Factory
Lancaster Science Factory
Hospice of Lancaster County
Hospice of Lancaster County
Hospice of Lancaster County