Phone/Fax
Hours
Monday:

7:00am - 7:30pm

Tuesday:

8:00am - 6:30pm

Wednesday:

7:00am - 6:00pm

Thursday:

10:30am - 7:30pm

Friday:

7:00am - 4:00pm

Sat/Sun:

Closed
Welcome to our Lancaster-West Office
We are happy to welcome you to our Lancaster-West office.  On this page you will find information which will help you get to know our therapists and how to get here.  In addition, you will find pictures and descriptions of our office and a link to our google reviews.  At the bottom, you will have the option to contact us. We look forward to the opportunity to become your family's first choice for physical therapy in Lancaster!
Medically-Adapted Gym Hours:
Monday: 7:00am-7:00pm
Tuesday: 7:00am-11:30am & 3:00pm-6:30pm
Wednesday: 7:00am-12:30pm
Thursday: 7:00am-11:30am & 3:00pm-6:30pm
Friday: 7:00am-2:00pm
"I chose Hartz Physical Therapy because of its convenient location, but I have been very pleased with the quality of their treatment and their professionalism. Having had physical therapy at other venues previously, I am impressed by how personable the entire Hartz staff is to their clients. I have received phenomenal care through three rounds of physical therapy at HARTZ PT."
Phyllis, Lancaster West Office Patient
"Was having trouble walking due to some knee pain. Dan Herrmann asked a lot of questions, evaluated my situation, had me walk so he could see what I was experiencing and gave me exercises that were spot-on. Pain started to subside within the first week and by week 3 my gait was 95% improved. No pain today -- 100% recovered. Excellent PT - definitely recommend!"
Linda Z., Lancaster West Patient
"My experience with Patrick, Dan, Alicia and the other team members at Hartz Physical Therapy has been outstanding. From pre-op conditioning to post-op care they have taken the time to listen to my concerns, advise me on at-home exercises, encourage me to improve and challenge myself. I recommend this team to everyone!"
Jean M., Lancaster West Patient

Take a tour with our Clinic Director Dan Herrmann.
Getting Here
Our Lancaster-West office is conveniently located on Good Drive in an area featuring many medical offices and commercial buildings.  Our building accesses a large private parking lot and a handicap accessible entrance.   Once you park in the lot, enter the building through the main doors (under the overhang) and enter directly into our reception area via the door straight ahead.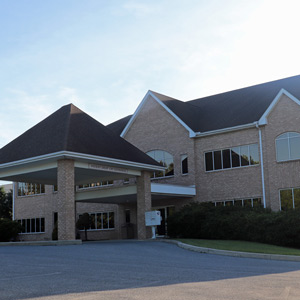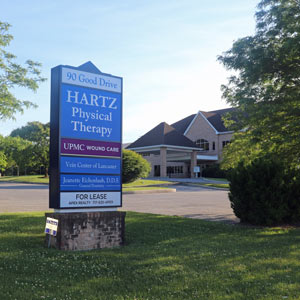 The Reception Area
Upon arrival at HARTZ Physical Therapy, our friendly staff will greet you and answer any questions you have. We ask that you arrive 15 minutes early for your first appointment for the completion of paperwork. Please ensure you bring your insurance card, identification physician's referral (if applicable) and any paperwork completed prior to arrival. At all subsequent visits, we appreciate your prompt arrival.
If you are unable to make a scheduled appointment, please call as soon as you are aware of your scheduling conflict. We do charge a $20 cancellation fee for those who do not provide at least 24 hours' notice of cancellation.  We will do our best to reschedule your appointment within one or two days.  Remember, the consistent completion of a physical therapy program is essential to your recovery.
Patients Rooms
Our Lancaster-West office offers five private patient rooms for your convenience. We are sensitive to your privacy needs and will do everything possible to make you comfortable.  These rooms are generally used for initial evaluations; however, if preferred by the patient, treatment can continue in this setting.

Treatment Approach
Our team-oriented approach consistently provides a fun, comfortable and supportive environment for patients, while ensuring consistency of care throughout your time with us. Although we know physical therapy can be difficult at times, we believe this type of atmosphere will make it easier for patients to succeed in their therapy programs and achieve full recovery.  After successfully completing your physical therapy program, you can continue to exercise with us in the Medically Adapted Gym (M.A.G.) program.
The Main Therapy Area
Featuring 4,000 square feet of open space, high ceilings and wall-to-wall windows, our main therapy area provides patients with a bright and spacious area in which to complete their rehabilitation plan.  Equipped with a wide variety of machines and therapy equipment to aid in the recovery process, our therapists are given the space and time to be able to motivate and challenge their patients to achieve their highest level of function following the completion of treatment.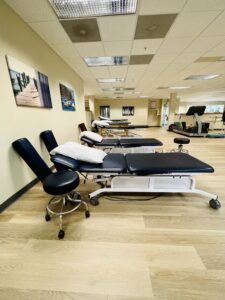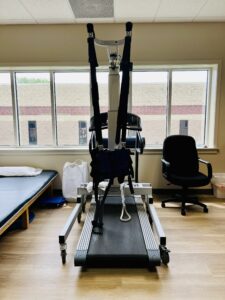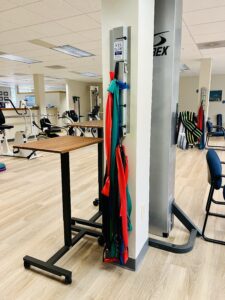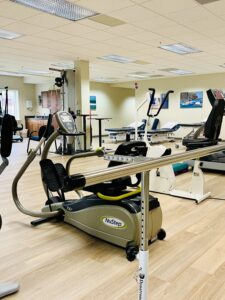 MAG Gym Areas
Our 7,500 square foot Lancaster-West office also features 2 smaller gym areas that are primarily utilized by the members of our Medically-Adapted Gym (MAG).  These areas feature a variety of cardiovascular machines and free weights.   Our MAG members may also use a private locker room in order to store their personal belongings while they workout.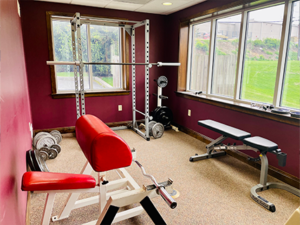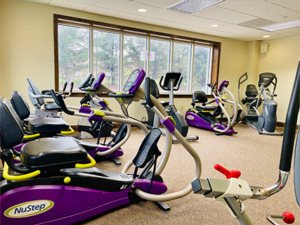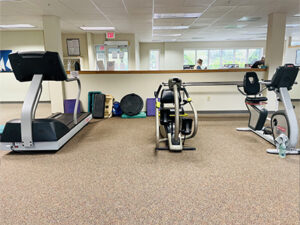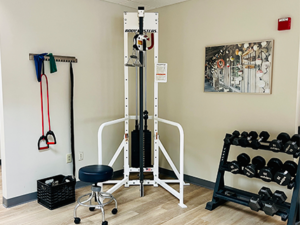 We're excited to see you! Schedule your appointment at our Lancaster West office today!