Aquatic Physical Therapy is Perhaps the Most Innovative Solution in Pain Relief.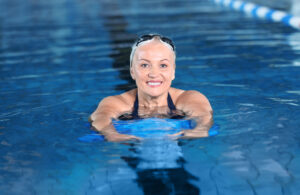 Aquatic therapy at our Lititz, Mount Joy and Lancaster-East offices, is the ideal treatment for a wide variety of injuries and pain. It is an alternative to traditional therapy and is suitable for people of all ages and fitness levels.  We understand it is difficult to schedule time in the pool at many facilities in  Lancaster County.  At HARTZ PT we are able to schedule you within 24 – 48 hours.
Our Aquatic Director, Wendy Enck, PTA has dedicated hours at both Lancaster-East and Lititz to focus 1-on-1 with our aquatic therapy patients.  Your aquatic rehabilitation program will always be overseen and progressed by your physical therapist and each aquatic therapy appointment is tailored to meet the patients' unique symptom presentation allowing for optimal progression.  One patient is scheduled in the pool area at a time and monitored throughout their entire visit.  With a maintained water temperature of 90-92 degrees and private changing areas with showers and towels provided, patients will be comfortable throughout their visit.
Common conditions treated are:
Stroke
Arthritis
Joint Pain
Lymphedema
Sports Injuries
Lower Back Pain
Sprains & Strains
Balance Disorders
Orthopedic Injuries
Neurological Disorders
Post-operative Recovery
Fibromyalgia & Chronic Pain
Cervical Spine & Posture Problems
Our Services
The therapists at HARTZ PT provide 1-on-1 attention and tailor appointments to meet your unique symptoms. The buoyancy created by the water allows for decreased stress on joints and helps you perform exercises and range of motion activities that may be difficult to complete on land. The versatility of water provides increased interest and ease of movement, which can result in a more positive response to rehabilitation exercises.
Aquatic therapy can help you with the following:
Reducing Stress on Joints
Increasing Flexibility
Improving Gait & Mobility
Building Muscle Strength
Enhancing Balance & Coordination
Improving Circulation & Ease of Movement
Promoting Relaxation
Increasing Endurance
Reducing Swelling & Pain Control
Treatment may include:
Upper & lower extremity strengthening with hand paddles and aquatic weights.
Functional movement exercises using steps to improve walking or climbing.
Water current resistance therapy allows a quicker return to full weight bearing sport
activities verses land rehabilitation.
Use of water current and various standing positions to improve balance and stability.
Non-weight bearing deep water exercises including traction and stretching.
Refine swimmer stroke technique to prevent future injury and improve performance.
If you have any questions about aquatic therapy please call our Lititz (717-625-2228), Mount Joy (717-492-8708) or Lancaster-East office (717-396-7766).