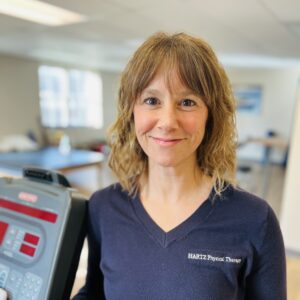 Niki Hunt, PTA
EDUCATION: Bachelor of Science in Anthropology with a minor in Biology from James Madison University | Associate of Science in Physical Therapy Assistant from Central Penn College
CERTIFICATIONS | SPECIALTIES:  Member of the American Physical Therapy Association (APTA) and the PA Physical Therapy Association (PPTA).
CONTACT:
nhunt@hartzpt.com
What Makes Niki Special
One of our most easy-going and positive staff members, Niki has been a gift since she came on board in 2021.  She has had the opportunity to work with all of our providers in the past year, but has recently settled into her work life at the Lancaster-East office, working with both Beth and Daulton. Little known fact about Niki is that she actually aced the PTA exam, not missing 1 point! (although she'd never tell you that…she's too humble)  Niki is quite crafty too and was the mastermind behind the 2nd place Barbie Halloween costumes that allegedly should have won the 2022 staff Halloween contest!
In her spare time, Niki has fun boating on the Susquehanna River and Chesapeake Bay with her husband and three boys. She also enjoys yoga, gardening, and walking with her dog, Nellie
Want to know more?  Here's a little Q & A…
What professional accomplishment of yours are you most proud of?
I'm proud of deciding to start a new career path by going back to school, graduating with honors, and achieving a perfect score on my board exam all while simultaneously managing a busy family of five and navigating a global pandemic!
What energizes you at work?
Our patients! I love getting to know each patient and making personal connections. In that way, each PT session feels less like "work" and more like spending time with a friend 🙂
Most important advice you give your patients?
Just keep showing up…even on the days you think you can't. I think this applies to PT and life in general. Half the battle is just showing up and persevering one day at a time.
What's your most interesting/embarrassing clinic story?
Quite a few times, I've forgotten to attach the tubing for the GameReady ice machine… I'm just grateful that it beeps at you to warn you… instead of spraying water all over the place!
What is one thing that instantly makes your day better?
My dog, Nellie! She is always happy to see me and wagging that tail! It's hard not to smile when greeted with that kind of love.
Where would you be right now if you had zero obligations and money didn't matter?
Somewhere warm, definitely near the ocean, spending my days hiking and doing yoga… enjoying the simple things in life with my family and friends! And travelling any chance I got!
What's your favorite famous or inspirational quote?
I have many favorite quotes… a whole Pinterest board in fact! Here a few of my faves:
"To begin, begin." -Walt Whitman
"If I cannot do great things, I can do small things in a great way." -MLK
"Though she be but little, she is fierce!" -Shakespeare
What are your hobbies?
I love yoga… good for body, mind, and spirit.
What songs are on the soundtrack to your life?
I love all music but I tend to gravitate to folk rock: Indigo Girls, Janis Joplin, John Prine, Brandi Carlile, Joni Mitchell, Fleetwood Mac. I also love Bob Marley on a bright sunny day! And Dolly Parton! And of course anything from the grunge era which instantly transports me back to my glory days of high school! (As I said, I love all music!)
Favorite Sport to watch?  Who's your team?
Lacrosse! My husband played at Johns Hopkins so I'm always rooting for the Blue Jays!  I also love watching my three boys play their respective sports (soccer, volleyball, lacrosse, basketball… and a million other sports over the years!)
What's something you've done, but you'll never do again?
Helicopter ride into the Grand Canyon! It was AMAZING! But I'm not testing my odds again!
What do you do for fun?
Boating on the Susquehanna River… you may even catch me wakeboarding or wakesurfing every now and then!