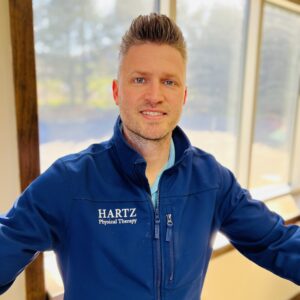 Aaron Brustad, MAG Director
EDUCATION:  Bachelor of Science in Exercise Science & Physical Fitness Specialist from West Chester University
CONTACT:
abrustad@hartzpt.com
717.735.8880
What Makes Aaron Special
Aaron has been the cornerstone of our Medically-Adapted Gym for over 10 years. He is one of our most consistent staff members, always showing up and doing a great job.  Aaron's helpful demeaner paired with his attention to detail help the MAG program thrive.
Aaron loves assisting his clients in achieving their fitness goals in a safe and effective way.  His hands-on approach with our MAG clients creates a encouraging environment for each patient to continue their journey post physical therapy.  His knowledge and background have made him adept at creating individualized exercise programs for all levels of gym members and his training allows them to get comfortable with all of our equipment and enjoy the camaraderie that his program fosters with its members.
Aaron routinely speaks to "Maggers" as we refer to our gym members about health and wellness topics.  In his spare time, Aaron is for hire as a personal trainer.
Want to know more?  Here's a little Q & A…
Most important Advice to patients/clients?
Be consistent. Your health and well-being is a lifelong endeavor and not just something you do for a couple months.
What energizes you at work?
I enjoy hearing stories of peoples health accomplishments and changes they've noticed while being a part of the program.
Why Did I choose this profession?
I had always been involved in being active growing up and my whole life. I always enjoyed playing sports and learning how to exercise, which naturally lead me wanting to learn more about the human body and how it functions.
If zero obligations and money did not matter?
I would be traveling the world and spending each day enjoying my hobbies.
Do you have any pets?
2 dogs (Mini Aussie Shepherd & English Cream Retriever) & 2 cats
Do you have any hobbies and what do you do for fun?
Lifting weights, playing and watching sports, investing, sports cards, traveling, car shows, home projects
Favorite Sport & Team?
Football and Minnesota Vikings
What is your Favorite Meal?
Eggs …. Any time of day
What is one thing that makes your day better?
Seeing my kids smile and laugh.
What's on your bucket list?
Many, many travel destinations that I haven't been to yet (parts of Europe, US, Caribbean, Australia, Canada, Dubai), sky diving, building a barndominium, and getting tattoos.