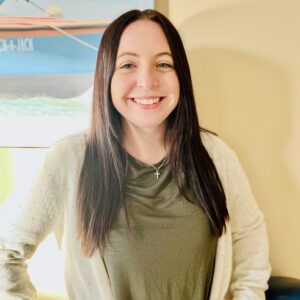 Alyssa Sadorf, PTA
EDUCATION: Assoicate of Science in Physical Therapy Assistant from Central Penn College | Bachelor of Science in Exercise Science from Messiah University
CONTACT:
asadorf@hartzpt.com
717.625.2228
What Makes Alyssa Special
Alyssa works in our Lititz office with both Kevin and Hayden. She enjoys listening and caring for her patients so that she   ensures the best outcome in their recovery.
When not in the office, Katie enjoys spending traveling and spending time with family and friends.
Want to know more?  Here's a little Q & A…
Why did you choose to be a PT/PTA for your profession?
I chose this profession because I always have known that I wanted to help others and work in Health care. I have always enjoyed the rehabilitation process and how it can make a difference in people's lives. This profession allows me to help others return to their prior level of function and get them back to doing what they love.
What energizes you at work?
I get energized at work when I hear and see that my patients are making significant improvements in their progress because it is why I love doing what I do.
Where would you be right now if you had zero obligations and money didn't matter?
I would be traveling the world and exploring each new place.
What is one thing that instantly makes your day better?
My day gets better whenever I get to make someone laugh or smile.
What's one habit you're trying to form (or un-form)?
I am trying to un-form my unhealthy addiction to chicken nuggets.
What are your hobbies?
I love to travel and explore new places with friends and family. I also like to go to the gym and spend time outside.
What's your favorite tradition (holiday or otherwise?)
My favorite tradition is watching the Polar Express on Christmas Eve while eating meatball sandwiches.
Favorite Sport to watch?  Who's your team?
My favorite sport to watch is football since I come from a football family. We are diehard Eagles fans. Go Birds!
What's on your bucket list?
I would love to go backpacking across Europe.