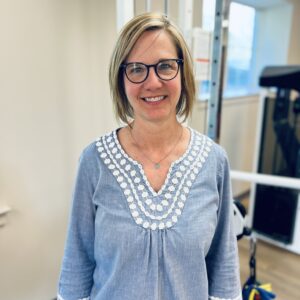 Brooke McCracken, PTA
EDUCATION:  Bachelor of Science in Exercise and Sport Science from Penn State University, | Associates in Science in Physical Therapy Assistant from Central Penn College
CERTIFICATIONS | SPECIALTIES: She is a member of the American Physical Therapy Association (APTA) and the Pennsylvania Physical Therapy Association (PPTA).
CONTACT:
bmccracken@hartzpt.com
717.738.0004
What Makes Brooke Special
An integral part of our team in Ephrata, Brooke's kind smile puts her patients at ease immediately. Brooke has been in our Ephrata office since she began at HARTZ PT in 2019, and with a husband and 3 kids in the Ephrata school system, she probably knows half the town by now!  While Brooke is part of the glue that makes our team in Ephrata stick, she is always more than willing to chip in at other offices when needed. A true team player!
When not at work, you can usually find Brooke and her husband at one of their children's sporting events. She enjoys traveling, getting together with family and friends and renovating their home.
Want to know more?  Here's a little Q & A…
Why did you choose to be a PT/PTA for your profession?
I had been a PT aide for 20 years with a BS in Exercise Science. I enjoyed working in the field with people and was ready to further my career.
What advice would you give a newbie?
To the newbie – Try not to get overwhelmed w/ information, it is a lot but slowly "sets in" although every day is different. Don't ever hesitate to ask the PT questions, they are a wealth of knowledge and always happy to help.
What professional accomplishment of yours are you most proud of?
I went back to school in my 40's, graduated, passed the boards and found an incredible career at HARTZ PT with the most amazing supportive and fun co-workers.
What energizes you at work?
Friendly, happy patients – also seeing progress in the patients and when they get excited about seeing their progress and achievements too, whether that be functional goals or pain free movement.
Most important advice you give your patients?
Try and be patient…healing takes time.
What is one thing that instantly makes your day better?
Smiles and hugs from patients/family/friends, the happiness and excitement from our dog when I get home, sometimes just a simple moment to sit and regroup my brain to relax or pray and a glass of wine.
Where would you be right now if you had zero obligations and money didn't matter?
I love to travel…Ireland is one of the first new places my husband and I would like to visit.
What's one habit you're trying to form (or un-form)?
I am usually "on time" but early is not a part of my personality. I have been trying to improve my time management.
What's your favorite famous or inspirational quote?
"Count your blessings, even when it seems you may not have any there is always something positive in your life."
What's your favorite place locally?
Nonna Rosa, Black Forest Brewery and Fashion Cents
What are your hobbies?
Hiking, watching movies, watching my kids play sports, nieces and nephews play sports, travel, learning about wine.
Do you have any pets?
Rosie, 1 year old Lab mix – in need of training 🙂
Do you have a hidden talent? What is it?
Sleeping, most anytime and anywhere (my husband says.)
Favorite Sport to watch?  Who's your team?
Always a Penn State fan but right now the Ephrata Mounts and whatever my boys are playing Football, Wrestling and Baseball.
What's the first concert you ever went to? Or what concert would you like to go to?
Zac Brown again and again
How do you like to start or end your day?
Coffee to start the day
What makes you laugh?
Usually my kids, being sarcastic or silly or my friends in Book Club, rarely do we leave a get together w/o our cheeks hurting
What's something you've done, but you'll never do again?
White Water rafting
What's on your bucket list?
Trip to Alaska, Ireland, Spain
What's the farthest you've ever been from home?
Europe, on a 4 week back packing trip w/ my childhood friend