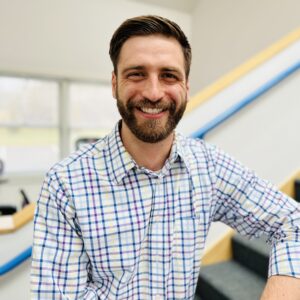 Daulton Rutter, DPT, OCS
EDUCATION:  Bachelor of Arts in Psychology, Arcadia University, Doctorate of Physical Therapy, Arcadia University, Graduated with Distinction
CERTIFICATIONS:  Board Certified Orthopedic Clinical Specialist (OCS) | Member of the American Physical Therapy Association (APTA) and Pennsylvania Physical Therapy Association (PPTA).
CONTACT:
drutter@hartzpt.com
717.396.7766
What Makes Daulton Special
Daulton began his time with HARTZ PT in the Ephrata office under Dave's leadership which allowed him to learn from one of our best mentors. In his short time as the Clinic Director of the Lancaster-East office, he has successfully combined the best of Dave's management style with his own calm, cool style to create an environment in which patients and co-workers can thrive. Daulton is energized when working with active patients and enjoys helping them get back to the things they love doing.  He has a passion  passion for educating his patients regarding their injury to promote active participation in their rehabilitation and prevent future recurrence.  He along with Kevin Sisbarro chairs our annual Spring Swing Golf Tournament.
When not at the office, Daulton enjoys running, biking, playing and watching soccer, exploring the local food scene, and spending time with his wife.
Want to know more?  Here's a little Q & A…
Why did you choose to be a PT/PTA for your profession?
As most healthcare workers, it's my desire to help others. PT is one of the few professions where we get to spend extended periods of time with our clients and really get to know them and form relationships while helping them get out of pain and reach their goals. That, coupled with my interest in fitness and exercise made PT a great choice!
If you weren't a PT/PTA what you be doing, especially if salary wasn't a concern?
Realistically? Probably a career that involves working with numbers (just not calculus!). Unrealistically? Professional soccer player, most definitely.
What energizes you at work?
Hearing patient's success stories and the role physical therapy has played in getting them to where they are. This is why we do it!
Most important advice you give your patients?
There are many hours in the week outside of the few we spend together in the clinic. Many of the decisions you make whether it's what you eat, drink, how much sleep you get, or how much you engage in physical activity can have a big impact on your health beyond what happens in physical therapy.
What are your hobbies?
Watching soccer, playing soccer, running, reading (mostly non-fiction.)
Do you have any pets?
Two cats. Milo and Gibson (aka Mr. Gibson, Gibby, Mr. Gibby). My wife is angling for a 3rd cat, but I'm currently holding strong and winning that battle.
Are you reading or binge watching anything right now?
I just finished Better Call Saul after watching Breaking Bad for the 4th time through.
What's one item you can't leave home without?
Wallet, for sure.
How do you like to start or end your day?
Preferably like to start my day with a cup of coffee…you might notice if I haven't. Usually like to unwind at the end of the day with a TV show or reading a book.
What's your favorite meal of the day?
A favorite meal of the day? I like them all, so I'll say Brunch and get the best of both worlds.
What's on your bucket list?
Visiting national parks and attempting the most challenging hike at each one!
What's the farthest you've ever been from home?
Australia. About 20-something hours worth of time in a plane to get there. Lived there for 4 months when in college "studying" abroad.