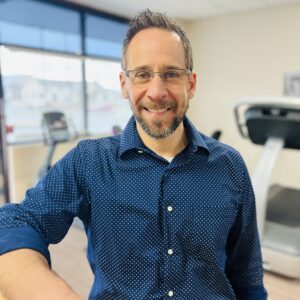 David Snyder, DPT, CSCS
EDUCATION:  Bachelor of Science in Business Administration, Messiah College, Master of Science in Exercise Physiology, West Chester University, Doctorate of Physical Therapy (DPT), Arcadia University
CERTIFICATIONS / SPECIALTIES:  Certified Strength and Conditioning Coach (CSCS) | Member of the American Physical Therapy Association (APTA) and of the Pennsylvania Physical Therapy Association (PPTA).
CONTACT:
dsnyder@hartzpt.com
717.738.0004
What Makes David Special
With a background in management prior to PT school and his sports training experience this former Ephrata High School athlete was a shoo-in for the Clinic Director position in our Ephrata office.  Dave has an uncanny ability to create a cohesive team and has done just that in his Ephrata clinic.  His laid-back management style creates a relaxed environment in the clinic so that both patients and staff thrive.
In his spare time, David has been known to train for triathlons and completed the Lake Placid Ironman in 2012.  When he is not at the office, David enjoys spending time with his wife and children.
Want to know more?  Here's a little Q & A…
What advice would you give a newbie to PT?
That you don't need to have all the answers all the time.  I felt a lot of pressure early on to be able to answer every patient's question.  As I have gained more experience, I understand that it's OK to say "I don't know" and then do research to try to answer that question.
What energizes you at work?
Watching patients progress through their recovery is the most motivating aspect of my job.  It is very rewarding to watch patients start their recovery with a lot of limitations and be able to walk out the door on their last day able to get back to doing the things they love to do.
Most important advice you give your patients?
To stay active, as we go through the different stages of life this activity may look different but it is still important to stay active.
What is one thing that instantly makes your day better?
To be able to get outside, whether for a run by myself or a walk with my family or just playing outside with the kids.  Being outside always makes me feel better.
Where would you be right now if you had zero obligations and money didn't matter?
I would ride my bike across the country or hike the Appalachian trail.
What's your favorite famous or inspirational quote?
"To give anything less than your best is to sacrifice the gift."  Steve Prefontaine
What are your hobbies?
Running, biking, hiking – being active outside with my family
What's your favorite tradition (holiday or otherwise?)
Badminton on the 4th of July – big family picnic
Favorite Sport to watch?  Who's your team?
I will watch pretty much any sport when I have the time.  FLY EAGLES FLY!
What's on your bucket list?
Surf a wave in Hawaii, ride my bike across the country, and go on a dogsled trip.