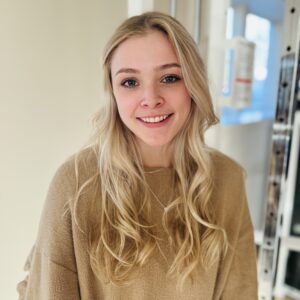 Emily Morgan, PTA
EDUCATION: Associates in Science in Physical Therapy Assistant from Central Penn College.
CONTACT:
emorgan@hartzpt.com
717.625.2228
What Makes Emily Special
Emily works in the Lititz office and is passionate about helping her patients achieve their greatest functionality.  She has a special interest in aquatic and pelvic floor therapies.
When not in the office, Emily enjoys anything that has to do with nature, such as hiking and fishing. Most days, she practices yoga or lifts weights to stay active. She's a fan of Philly sports teams, especially the Sixers!
Want to know more?  Here's a little Q & A…
Why did you choose to be a PT/PTA for your profession?
I always knew I wanted to go into the healthcare field, but I knew I wanted nothing to do with needles, blood, or anything of that nature. I had gotten into yoga and working out after I graduated high school, and I found out that the field of PT was closely related to these activities. After some research and a few days of shadowing, I knew this career would be a perfect fit for me.
If you weren't a PT/PTA what you be doing, especially if salary wasn't a concern?
In a perfect world I would love to be a yoga instructor or some sort of health influencer. I really enjoy helping people feel good mentally and physically.
…Either that or something cool, like a zookeeper.
Most important advice you give your patients?
Something in the nature of "focus on your breathing"/"take a deep breath". When dealing with patients that are in pain, I find it really beneficial to just take a few moments to allow calming of the nervous system. This also helps if patients are feeling frustrated with their condition- allowing them a moment to reset can make a huge difference, and can help with getting through the hard parts of therapy.
What is one thing that instantly makes your day better?
At work, it really brightens my day when a patient comes in for their treatment and relays how much better they're feeling after a previous session with me, I love to know that I can make a difference in making people feel better.
….Or cupcakes. Its amazing how sweets can make a girl's day.
Where would you be right now if you had zero obligations and money didn't matter?
On a beach with my family and boyfriend. Preferably somewhere where the fishing is good.
What's your favorite famous or inspirational quote?
"Everything will be okay in the end. If it's not okay, it's not the end."
What's your favorite place locally?
When it was accessible, my favorite place was Tucquan Glenn. This is easily my favorite place to go hiking- with beautiful healthy streams and lots of wildlife to see.
Do you have any pets?
My family has a little pit-bull named Maya. Shes about 2-3 years old and shes the sweetest girl ever.
What songs are on the soundtrack to your life?
"Its a Great Day To Be Alive" by Travis Tritt is a song that I will never skip, and it would definitely be on my life's soundtrack. Right alongside "Party in the U.S.A.," of course.
What's on your bucket list?
I would love to go see the northern lights someday. Something about those flowing colors has always fascinated me.