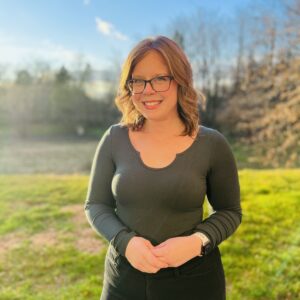 Gabrielle Woods, Administrative Manager
EDUCATION:  Associates Degree in Nutritional Science from Penn State University
CONTACT:
gwoods@hartzpt.com
717.625.2228
What Makes Gabby Special
In the four years Gabby has been a HARTZ PT team member, she has never shyed away from a challenge.  She has quickly been promoted to our Administrative Manager, overseeing our Patient Care Coordinators to ensure they have the tools they need to be successful.  Gabby is also our Billing Liasion with our outside billing company.  An integral part of the back office, Gabby is often the first stop for questions that no one else seems to be able to answer.  Her ability to connect with co-workers on a personal level has helped her develop deep friendships within our team, frequently planning opportunities for social gatherings as well as just having a good time throughout the work day.
When not in the office keeping us all organized, you'll find Gabby busy with her three children, reading a book, taking a hike or baking a new recipe!
Want to know more?  Here's a little Q & A…
What's something that has surprised you about your chosen career path? 
I started my career selling and servicing health and life insurance and once that career path changed, I never thought I would enter that world again.  But here I am, on the other side of insurance working with medical facilities and billing companies.  My career has come full circle.
If you weren't in PT ADMIN what you be doing, especially if salary wasn't a concern?
I'd definitely be somewhere in the holistic healing world. I want to help people find healthier versions of themselves.
What energizes you at work? 
My coworkers!  I work with some of the best PTs, PTAs and admin staff around.  Such a wonderful bunch of people to work with and make my job a pleasure.
What is one thing that instantly makes your day better? 
Yoga!  Yoga has been the palate cleanser I need to readjust, refocus and relax.  Without it, I feel less centered and less grounded.
Where would you be right now if you had zero obligations and money didn't matter?
Traveling.  I belong on a tropical island, toes in the sand and skin in the sun!
What are you passionate about? 
Motherhood.  I have three amazing kids and being their mom has been an adventure as well as a humbling spiritual journey.  My goal is to be the best for them always.
What's your favorite place locally?
I love Lancaster City.  There is so much awesomeness in one place- Central Market, Double C, Shot & Bottle, West End Yoga, The Fulton, Café One Eight.  I could walk around and get lost all day!
Do you have any pets? 
I have two dogs.  Confetti is a 3-year-old mini Goldendoodle and Phoebe is a 1-year-old mini Aussiepoo.  Confetti is the lover; Phoebe is the boss.
What's one item you can't leave home without?
How about three items?  My yoga mat, sneakers and a water bottle.  I take them everywhere.  You never know when you might get an impromptu walk or yoga session!  Plus, hydration is key!
What's one thing most people don't know about you? 
I am a writer.  I have had poetry published in high school and college.  I still write poetry now but only for personal expression.