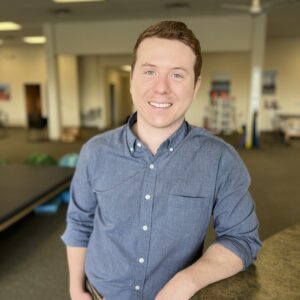 Garrett Collins, DPT
EDUCATION: Doctorate of Physical Therapy (DPT) and Bachelor of Science in Health Science Bachelor from Lebanon Valley College
CERTIFICATIONS | SPECIALTIES:  Member of the American Physical Therapy Association (APTA) and Pennsylvania Physical Therapy Association (PPTA).  He particularly skilled in rehabilitation of lower extremity injuries in athletic populations and endurance athletes.
CONTACT:
gcollins@hartzpt.com
717.492.8708
What Makes Garrett Special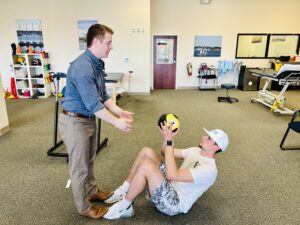 Garrett came to HARTZ PT in 2022 with a background in sports rehabilitation.  He is eager to learn and willing to jump in to help in whatever capacity is needed. With seemingly boundless energy, Garrett has achieved several amazing personal fitness accomplishments and continues to challenge himself both in and out of the clinic to become the best he can be.  He sees patients with Liz and Amy in our Mount Joy clinic.
Garrett focuses his treatments on manual therapy and functional strengthening interventions.  He has also developed a passion for educating patients regarding their injury to promote active participation in their rehabilitation and prevent future recurrence.
When not at the office, Garrett enjoys trail running and biking, and has biked across the country with his wife to raise money for charity.  In addition, Garrett is a former Ironman Triathlete.  He enjoys spending time with his wife and their dogs. Garrett also has a passion for service and regularly serves at his church and also with LifeCycles, a local youth mentoring organization in Lancaster County.
Want to know more?  Here's a little Q & A…
What's the biggest misconception people have about your position?
I think the biggest thing that people need to know about what we do is that we exist to show them how to help themselves. As a profession, we use our hands-on treatment to help patients heal. However, 50% or more of your rehab is done outside of the clinic with the exercises and recommendations that we give during the sessions.
What energizes you at work?
I am most energized by my patients when they are making progress toward their goals.  The ability to provide our clients with recommendations that allow them to keep doing what they love is what motivates me to do my very best every day as a professional.
Most important advice you give your patients?
The best advice I give my patients is "listen to your body and have patience". Pain is your body's way of saying "pay attention to me", letting you know that something isn't quite right. Most of the time if we give ourselves the time to heal and slowly but consistently increase the challenge or load applied, you will be surprised what amazing things you can do!
Where would you be right now if you had zero obligations and money didn't matter?
I would sell everything and move to New Zealand. I have always wanted to go there and it is considered the "outdoor capital of the world". Sounds like a giant play-ground to me and would love to be able to run up a mountain and swim in the ocean all in the same day!
What's your favorite place locally?
My wife and I love to go out to eat at our local craft brewery, Twisted Bine. If we get the chance and have the time, our other favorite restaurant is Harvest in Lancaster. On the weekends I love to be at our church LCBC in Manheim and try to make it an effort to volunteer and attend classes and gatherings.
What are your hobbies?
I like to participate in triathlons, bicycle tour, trail run, and travel with my wife.
Do you have any pets?
I have a chocolate lab named Milo and 3 cats named Nelly, Charlie, and Reginald
What's one thing most people don't know about you?
Most people don't know that I have ridden a bicycle coast to coast, twice. Once from VA to CA and then again from OR to VA. Both of these were self-supported with nothing but a tent and sleeping bag strapped to the back.
How do you like to start or end your day?
I like to start my day by getting up early and sipping a cup of coffee while watching the sunrise from our kitchen island. My dog, Milo, always rests his head on our bay window and watches it with me while our one cat, Nelly, grooms him and watches as well.
What's your favorite meal of the day?
I love breakfast. I have a huge weakness for baked-goods with a hot cup of coffee. However, I have recently tried to deprive myself of these since I lack the self-control to not have too many donuts and muffins once I start!
What's on your bucket list?
I would love to ride my bicycle across Europe and maybe from Vancouver to Mexico. It is tough to find the time and money to complete long trips like this as a professional, but maybe when I retire!