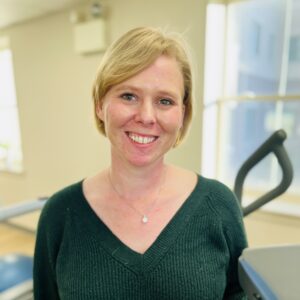 Jennifer Graham, DPT
EDUCATION:  Doctorate of Physical Therapy (DPT), Bachelor of Science in Health Science with a minor in Psychology from Lebanon Valley College
CERTIFICATIONS | SPECIALTIES:  Geriatric Clinical Specialist, Pelvic Health Therapist.  She is a member of the American Physical Therapy Association (APTA) and Pennsylvania Physical Therapy Association (PPTA).
What Makes Jennie Special
Jennie has worked with a diverse caseload during her extensive experience, including generalized orthopedics, post-op, and vestibular diagnoses with a focus on pelvic health and geriatrics. She has a unique ability to understand the patient's perspective allowing her to create an environment in which the patient can not only achieve their functional goals, but also adapt a better understanding of their condition and how to remain healthy after discharge.  As a Geriatric Clinical Specialist (GCS), Jennifer has a passion for treating older adults with common geriatric conditions, including everything from treatment of arthritis and post-surgical rehab to identifying balance and gait deficits. She is also committed to helping patients reduce pelvic pain and urinary incontinence through her pelvic health specialty.  Jennie works with Brittany, seeing patients in our Lititz office.
Jennie was born and raised in Leola and now lives in in Lititz with her husband Andrew and their dog Apollo.  She has completed two triathlons and a Ragnar race where she ran from Lancaster to the Poconos.  When she's out of the office you can find her walking her dog, listening to a podcast, cooking, reading, or knitting.
Want to know more?  Here's a little Q & A…
Why did you choose to be a PT for your profession?
I wanted a career that would last me a lifetime and never be boring while being able to make a difference in people's lives.
What's something that has surprised you about your chosen career path?
The variability of it. You can practice in a hospital, at a school, in an outpatient setting. Throughout my carer I have worked in skilled care, home health, and out patient orthopedics seeing everything from pelvic health to vestibular to post surgical and chronic pain. Days are never boring and your career is what you make it!
What professional accomplishment of yours are you most proud of?
Becoming a geriatric clinical specialist and continuing my education in pelvic health
What's the best advice you were ever given? Who was it from?
The best advice I was ever given was from my grandfather who said others will forget what you did or what you said but never how you made them feel. I try to be very intentional about how I approach situations with everyone so that everyone is on the same page about intentions and even when words or actions get mixed up, the intention behind them is clear.
Where would you be right now if you had zero obligations and money didn't matter?
Traveling to all the places on my bucket list
What's your favorite famous or inspirational quote?
"Nothing can be accomplished without passion."
What's your favorite place locally?
Slate in Lititz. They have the best coffee and I love their monthly specialty drinks.
Do you have any pets?
I have a dog named Apollo. We rescued him about 8 years ago and he is the sweetest boy. He loves walks and snuggling on the couch.
Do you have a hidden talent? What is it?
I can ride a unicycle. It was part of our gym curriculum in elementary school and we decided to keep going with it doing parades and events. I used to have one that was 5 feet tall that I would use to play basketball.
What's your favorite tradition (holiday or otherwise?)
Thanksgiving is a big deal in our family. I have a large extended family so having all of my aunts, uncles, and cousins together is a wonderful tradition.
Favorite Sport to watch?  Who's your team?
I don't particularly follow sports but my husband is a huge Green Bay Packers fan so I say that I am a fan by association!
What's your favorite meal of the day?
Without a doubt, breakfast!