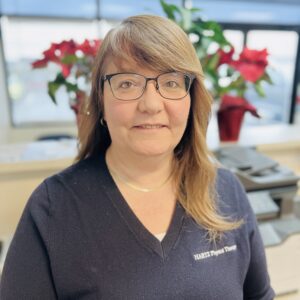 Karen Talarico
EDUCATION:  Receptionist Certificate from Ashworth College
CONTACT:
kalarico@hartzpt.com
What Makes Karen Special
A mainstay in our Ephrata office, Karen puts patients at ease as soon as they walk through our doors.  She runs an extremely efficient front desk and finds time to help with phones and patient communication at other offices as well. Our team can always count on Karen to go above and beyond for our patients or her co-workers. We are very lucky to have Karen on our team.
When not at the office Karen enjoys spending time with her husband, cooking, gardening, reading and photography.
Want to know more?  Here's a little Q & A…
What has surprised me about my position?
How much I love it. I went from a VERY long and hard commute in a high-stressed job to my current role with a much shorter and more scenic commute to no stress on the job.  It's amazing at the difference it has made for me.
What professional accomplishment of yours are you most proud of?
The professional accomplishment I am most proud of is being tasked with going out to Illinois on my own and heading up a team to start up a secondary call center that would end up operating virtually with our existing center in Conshohocken.   Very challenging and out of my comfort zone for sure but it turned out to be a great success.
What energizes you at work?
What energizes is getting to see the patients' familiar faces each week and to be watching from outside of their care at how far they come.
What is one thing that instantly makes your day better?
When I have time to start it out by sipping a good, hot strong cup of coffee while thinking about or planning for the day ahead.
Where would you be right now if you had zero obligations and money didn't matter?
I would be traveling the country and stopping at all amusement parks along the way so I could cross off riding all the roller coasters from coast to coast.
What are you passionate about?
I am most passionate about animals.  I donate both money and items needed at shelters often. I have volunteered my time in the past as well.
Do you have any pets?
Being an animal lover, I do have a pet. I have a very spoiled kitty named Stella.  She has a unique personality and will carry on quite the conversation if she is in the mood.  She also likes to join our weekly Skype chats with my mother-in-law (who lives out of state) every Sunday.
What's your favorite tradition (holiday or otherwise?)
My favorite tradition would be a "Let's Make a Deal" game show style Christmas game that my sister and I started more than 20 something years ago.  We had a sick relative around the holiday and to try and lighten spirits we decided to play this silly game.  It was such a hit that we played it every year since and it has really evolved.  We give away good gifts, gag gifts, money, lottery tickets and have been known to even give away a car.  We love to see the guests all torment themselves trying to decide what deal to take and hoping it is not a gag gift.  All year, my sister and I text or chat (she is out of state) every time we see something in a store that would make a great "Christmas game" gift.  Others have tried to duplicate it in their families but can't do it like my sister and I. 🙂
What's the farthest you've ever been from home?
The farthest I have been away from home is Hawaii (twice) and loved it there.
How do you like to start or end your day?
I love to end my day catching up on how my husband's day went and spending time with him as he always makes me laugh and of course a couple of kitty cuddles too.