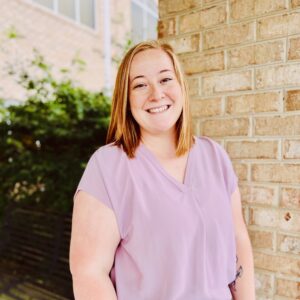 Katie Ederati, PTA
EDUCATION:  Bachelor of Science in Social Work from Millersville University and Associate of Science in Physical Therapy Assistant
from Central Penn College
CERTIFICATIONS | SPECIALTIES:
She is a member of the American Physical Therapy Association (APTA), and of the Pennsylvania Physical Therapy Association (PPTA).
What Makes Katie Special?
When not at the office, Katie enjoys hiking, traveling, and spending time with her husband, son and family. Katie is also an active member of the Lancaster Liederkranz's German dance group.
Want to know more?  Here's a little Q & A…
Why did you choose to be a PT/PTA for your profession?
I have always wanted to work in healthcare and after working in social work for several years, I felt as though I was missing one on one patient interaction. Having been a patient in physical therapy, I started shadowing and decided to go back to school to become a PTA.
If you weren't a PT/PTA what would you be doing, especially if salary wasn't a concern?
If I wasn't a PTA, I think I would love to be a travel/food blogger. I love to travel and explore different cuisines and cultures.
What energizes you at work?
A few things energize me. First and foremost, my teammates. I have worked at several of our offices and the dynamic is always great when everyone works so well together. Secondly, getting to experience small or large successes with patients. We truly get to go along with them through their rehabilitation journey which is so rewarding.
What is one thing that instantly makes your day better?
My son's smile or belly laughs instantly make my day better. Even if I've had a challenging day with him, when he laughs, it can really erase all of the sleep deprivation that comes with having a baby.
Where would you be right now if you had zero obligations and money didn't matter?
If I had zero obligations and money did not matter, I would either be traveling throughout the USA in an RV/van or abroad backpacking. I have always wanted to take a road trip through the USA as well as travel through all of Europe.
What's one habit you're trying to form (or un-form)?
A habit I am trying to form is to meditate and stretch daily.
What are your hobbies?
My hobbies include: spending time with my family, hiking, traveling, and trying new foods.
Do you have any pets?
I have two cats Clyde and Daisy. They were in the spotlight until their human baby brother came along in June.
What's the first concert you ever went to? Or what concert would you like to go to?
My first concert was Britney Spears when I was 6 years old at the York Fairgrounds. I still remember all of her costume changes.  The one concert I always wanted to go to was Elton John. Hoping he will un-retire from touring again soon!
What's your favorite meal of the day?
Breakfast is by far my favorite meal. The only breakfast food that I don't like is scrapple!
What's the farthest you've ever been from home?
The furthest that I have been from home is Hawaii. In 2022, my husband and I spent 10 days in Kona and Hilo Hawaii which is where we found out we were expecting our first baby.