Kevin Sisbarro, DPT
EDUCATION:  Doctorate of Physical Therapy from Arcadia University | Bachelor of Science in Interdisciplinary Health Services from Saint Joseph's University
CERTIFICATIONS|SPECIALTIES:  Certified Vestibular Therapist, American Institute of Balance | Member of the American Physical Therapy Association (APTA) and the PA Physical Therapy Association (PPTA).
CONTACT:
ksisbarro@hartzpt.com
717.396.7766
What Makes Kevin Special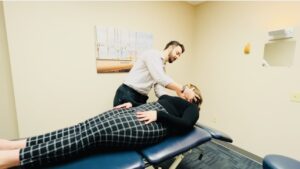 Upon first glance at Kevin's 6'5" frame, you'd think he played basketball, but he will readily admit that it wasn't his thing. Despite his tall frame, Kevin has the ability to put his patients at ease through his gentle nature and relaxed demeaner.  Kevin has a true knack for treating patients with vestibular dysfunction and has developed quite a following from his past patients who have experienced his talents first-hand.
Kevin co-chairs our annual Spring Swing Golf Tournament with Daulton Rutter.
When not in the office, Kevin is a big New York sports team fan, following the Giants, Yankees and Rangers. He spends most of his time with his girlfriend Lauren and his cat Piper.
What's something that has surprised you about your chosen career path?
Becoming vestibular certified was never an intention of mine when I decided to become a Physical Therapist. It wasn't until my first clinical rotation (which was at HARTZ) where I fell in love with
that aspect of PT because my clinical instructor specialized in vestibular therapy.
If you weren't a PT/PTA what you be doing, especially if salary wasn't a concern?
A movie Critic which would allows me to watch movies all day and not feel guilty about it.
What energizes you at work?
Coffee…just kidding. Having new conversations and building relationships with my patients is
what helps energize me through my day.
What is one thing that instantly makes your day better?
Hearing a patient explain how much better they feel, will never not put a smile on my face.
What's the best advice you were ever given? Who was it from?
Always make time for yourself.
Where would you be right now if you had zero obligations and money didn't matter?
In a movie theater or on the golf course.
What are your hobbies?
If you haven't gathered by now, I enjoy watching movies and golfing.
Do you have any pets?
I have a cat Piper.
Are you reading or binge watching anything right now?
The Stormlight Archive (second read through) and The Last of Us on HBO
Favorite Sport to watch? Who's your team?
Football.. my team is the Giants and whoever is playing the Eagles.
What's your favorite meal of the day?
A spoonful of peanut butter at night…I don't know if that counts as a meal.
What's the farthest you've ever been from home?
Israel