Lauren Wills, DPT
EDUCATION:  Bachelor of Science Kinesiology, Penn State University; Doctorate of Physical Therapy (DPT), Arcadia University
CERTIFICATIONS | SPECIALTIES:  Lauren treats a wide variety of orthopedic diagnoses, chronic pain, vestibular disorders and geriatic services like arthritis and osteoporosis. She is a member of the American Physical Therapy Association (APTA) and the Pennsylvania Physical Therapy Association (PPTA).
CONTACT:
lwills@hartzpt.com
717.844.6500
What Makes Lauren Special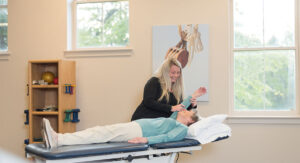 A former cheerleader, Lauren's enthusiasm for her profession is evident! Lauren is our youngest Clinic Director, taking on this role at our Manheim location in the fall of 2022. However, Lauren has been honing her craft for longer than you'd think, working for HARTZ PT as a PT tech for several years prior to completing her Doctorate of Physical Therapy (DPT) at Arcadia University.  Lauren is willing to go above and beyond for her patients and for her co-workers, happily chipping in wherever necessary without complaint.
She particularly enjoys the challenge of developing individualized plans of care for each patient to help them reach their maximum potential. Her approach starts with getting to know her patients, their goals and interests so that she can create a customized plan that helps them experience the best quality of life. She empowers her patients with the knowledge to manage their health both now and into the future.
Lauren and Lori Kerr are the co-chairs of our annual Feed the Need Spring Food Drive.
Want to know more?  Here's a little Q & A…
Why did you choose to be a PT/PTA for your profession?
I had my first experience with PT as a high school freshman for a dance related injury. I always knew I was going to go into the healthcare field, but didn't know what. I loved the personal rapport I was able to build with my PT/PTA at that time, and thought it was so cool to see how what seemed like simple exercises (that I now know a lot of evaluation and assessment goes into) got me quickly back into dance and cheerleading.
If you weren't a PT/PTA what would you be doing, especially if salary wasn't a concern?
I'd love to be a wedding planner or travel agent – I love to plan trips & actually enjoyed planning my own wedding (3 times thanks to COVID).
What energizes you at work?
My coworkers – we have a great team at HARTZ PT that I always look forward to seeing everyday and spending time with both inside and outside of work.
Where would you be right now if you had zero obligations and money didn't matter?
I would probably either be in Key West or living on a cruise ship that travels through the Caribbean. I love the beach and warm sunny weather.
What's one habit you're trying to form (or un-form)?
I'm trying to make a habit of finding more time to read. I always say I'm going to, and never do.
Is there any experience you think everyone should be required to have? What is it?
I think everyone should have to work in a customer service type role at least once in their life.
What are your hobbies?
I love to travel, cook and watch sports.
Do you have any pets?
I have 2 spoiled poodle-mix puppies.
What's your favorite tradition (holiday or otherwise?)
My birthday is on Groundhog's Day, so every year my parents get me a "groundhog cake"….it's a little bundt cake that has a cake groundhog poking through the center.
Favorite Sport to watch? Who's your team?
My favorite sport to watch is football, but I'm a fan of everything Philly, especially the Eagles, Phillies and Sixers. I've become a Baltimore Ravens fan because of my husband and I am a proud Penn State Alum, too.
What's something you've done, but you'll never do again?
Jet Skiing. My husband and I went for the first time last year in Key West. We were the only people in the "tour" who had never gone before. Riding as the passenger with someone who never drove a jet ski before,  I thought I was going to fly off!  We ended up bailing out of the ride 20 mins in.