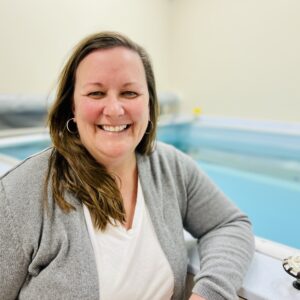 Wendy Enck, PTA
EDUCATION:  Bachelor of Science in Sports Management from Towson University | Associate of Science in Physical Therapy Assistant from  Central Penn College
CERTIFICATIONS | SPECIALTIES:  Wendy has earned Aquatic Therapy Clinical Competency for PTA and is a member of the American Physical Therapy Association (APTA), and of the Pennsylvania Physical Therapy Association (PPTA).  In addition, she was awarded the Advanced Proficiency for Physical Therapist Assistants from the APTA.
CONTACT:  wenck@hartzpt.com
What Makes Wendy Special
The Director of our aquatics program, Wendy has been an integral part of the development and growth of our clinics over the past 20 years.  She is a founding Board member of the company's charitable arm serving a Secretary of the HARTZ PT Charitable Organization and the long-standing Race Director for our Fall Blast 5K, which has raised hundreds of thousands of dollar for local charities over the past 20 years.  A former Division I collegiate swimmer at Towson University, Wendy has always been passionate about aquatics. In fact, she has completed the swim around Key West (13.1 miles) several times!  Her passion for aquatics carries over into the clinic and her role as Aquatics Director, in which she is currently treating exclusively in our Lititz and Lancaster-East warm therapy pools.
Wendy worked and studied aquatic therapy and water fitness in Boynton Beach, Florida at the United States Water Fitness Association.  She creates a customized rehabilitation program for each patient, based on the goals outlined by the supervising physical therapist. Water allows you to move in ways patients may not be able to on land which creates exciting new options for therapy and Wendy works 1-on-1 with her patients to ensure their success.  Being a witness to how water therapy can change someone's life is a constant driving force for Wendy.
Outside of work, Wendy enjoys training for open water swims in tropical waters. She is also the Head Coach of the Cocalico High School Men's and Women's Swim Teams.
Want to know more?  Here's a little Q & A…
If you weren't a PT/PTA what you be doing, especially if salary wasn't a concern?
Running an outside aquatic center in the Florida Keys
What professional accomplishment of yours are you most proud of?
Going outside of my comfort zone and presenting at both the state and physical therapy national conferences.
Most important advice you give your patients? 
Celebrate the small victories during recovery. The small successes matter.
What's the best advice you were ever given? Who was it from?
From my Dad….Your hardest days will be your biggest success
Where would you be right now if you had zero obligations and money didn't matter?
Florida Keys
If you could meet one person, living or dead, real or fictional, and have a conversation with them, who would you meet and what would you talk about?
I'd want to talk to  Jimmy Buffet about his journey and business sense and how he took a simple concept and capitalized on it.
What is one thing that instantly makes your day better?
When someone makes me laugh.
Do you have any pets?
A charcoal Lab named Finnley.
What songs are on the soundtrack to your life?
Quiet Your Mind by Zac Brown Band
Are you reading or binge watching anything right now?
Can't Hurt Me by David Goggins
What's your favorite tradition (holiday or otherwise?)
Picking a country every Thanksgiving and recreating their most popular dishes for our Christmas dinner.