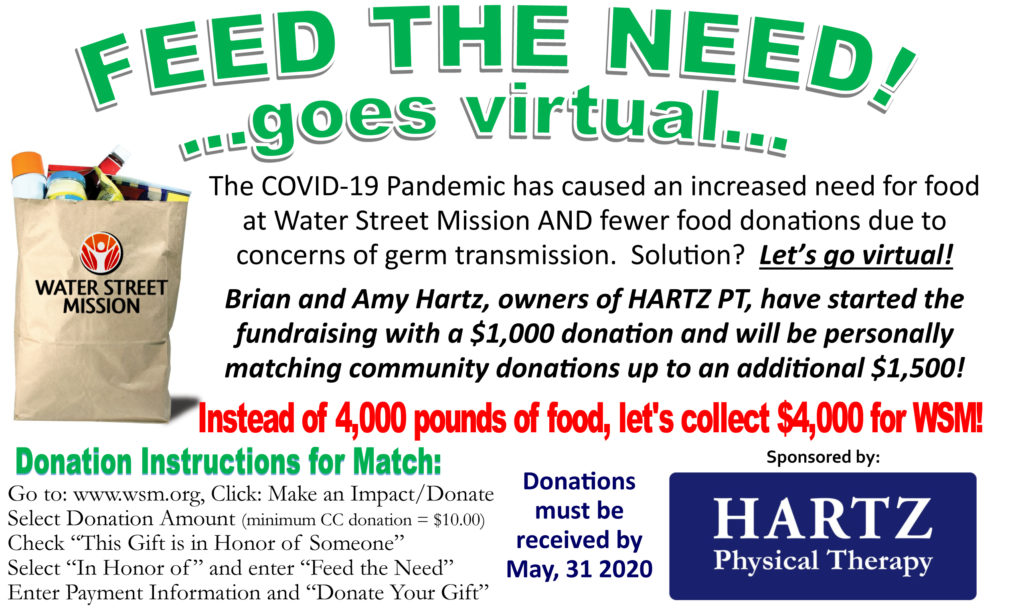 During April in each of the past 5 years, the community has pulled together to support our Feed the Need food drive for Water Street Mission donating collectively over 16,000 pounds of food.  Unfortunately, in 2020, the COVID-19 pandemic prevented us from holding the food drive due to concerns of germ transmission and the need to keep our clinics safe for our patients and staff.  However, we understand the increased need in our community for the services of Water Street Mission and we have figured out a way to help them without compromising safety…let's make it virtual!
To get us started, Brian and Amy Hartz, owners of HARTZ Physical Therapy, will make a $1,000 donation.  In addition, they will be matching an additional $1,500 of donations from the community, with a total donation goal of $4,000!  Donations can be made via credit card or check.
Donations can be made via credit card online at the this link
To be eligible for the matching donation, please follow these instructions:
Select the amount to donate. (Choose "Other" for a donation between $10 and $24. The requested minimum credit card donation is $10)
Scroll to "Tribute Gift"
Check the box next to "This gift is in honor or memory of someone"
Use the drop-down menu to choose "In honor of"
In that space, type over the words "Full Name", with "Feed the Need"
Keep the Designation at "General Fund"
Complete credit card information as requested
Click on "Donate Your Gift
That's it! Your donation will be tracked and eligible for a match.  Please note, HARTZ PT will not have access to donor information. You will receive a thank you letter and receipt directly from Water Street Mission.
If you would prefer to mail a check, please note "Feed the Need" in the memo portion of your check and mail to:
Water Street Mission
Attn: Feed the Need Virtual Food Drive
c/o: Sandy Gambone
210 South Prince Street
Lancaster, PA 17603
At this time, we are able to accept donations in our offices only from current patients at their normally scheduled visits. This is necessary due to limitations on visitors in our office because of the COVID-19 pandemic.  We apologize for any inconvenience.
Thank you for your support of this worthy cause!
RESULTS FROM THE 2019 FEED THE NEED: