It's that time of year again…time for our annual April food drive to benefit Water Street Mission. During April in each of the past 6 years, the community has pulled together to support our Feed the Need food drive for Water Street Mission donating collectively over 16,000 pounds of food.  Unfortunately, in 2020, the COVID-19 pandemic prevented us from holding the food drive due to concerns of germ transmission, however we transitioned the event to a virtual food drive and were thrilled to raise over $6,000 for Water Street Mission. This included a $2,500 donation from HARTZ Physical Therapy as well as over 43,500 of donations from the community.
This year, we are hoping to collect both monetary and food donations to support Water Street Mission at a time when their pantry is often depleted. Below is a list of food items that we will be collecting in our offices.  Due to continuing concerns from the pandemic, we are asking only patients and staff members to donate non-perishable food items.  However, we would love the support of the community and will be accepting both check and credit card donations in support of the Feed the Need Food Drive as well.
For a check payment, please make the check out to HARTZ Physical Therapy Charitable Fund (please enter "Feed the Need Food Drive" in the memo) and mail to:
HARTZ Physical Therapy Charitable Fund
c/o Feed the Need Food Drive
100 Highlands Drive, Suite 100
Lititz, PA 17543
Pantry Items
Sugar (Brown or Granulated White)
Rice (NO Large bags, please)
Cereal (Hot or Cold)
Beef Stock
Chicken Stock
Vegetable Stock
Canned Vegetables
Canned Fruit
Canned Soup
Canned Meals (i.e., Spaghettios, Stews, Chili)
Canned Meats (i.e., Tuna, Chicken, SPAM)
Gravy in Can or Jar
Spaghetti Sauce
Condiments
Mayonnaise
Ketchup
Relish
Salad Dressings & Condiments
Beverages
Coffee
Tea
Powdered Creamer
Thank you for your support of this worthy cause!
OUR 2020 FEED THE NEED FOOD DRIVE WENT VIRTUAL!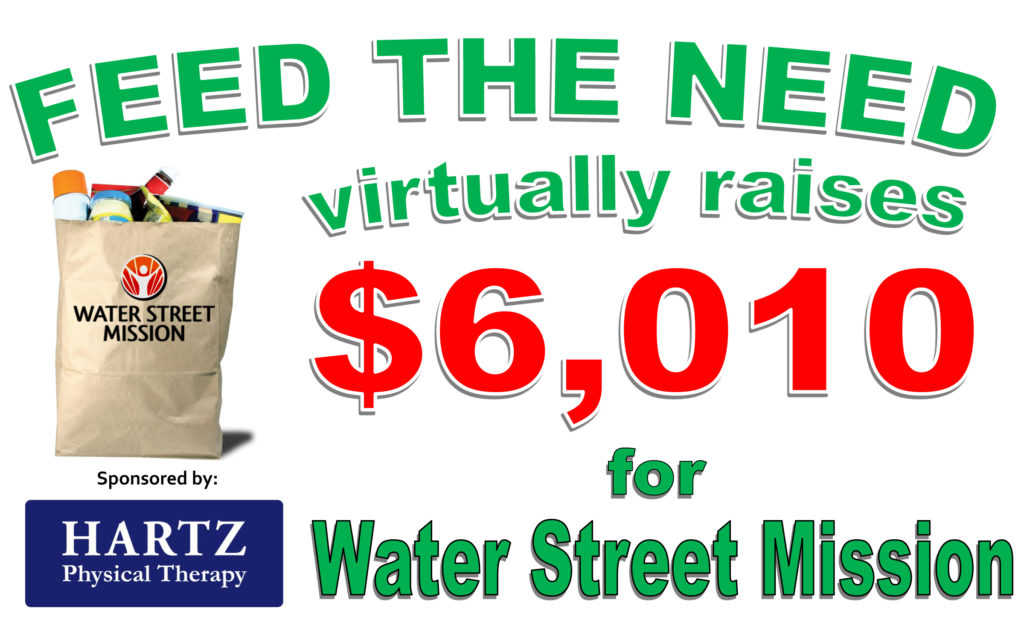 RESULTS FROM THE 2019 FEED THE NEED: