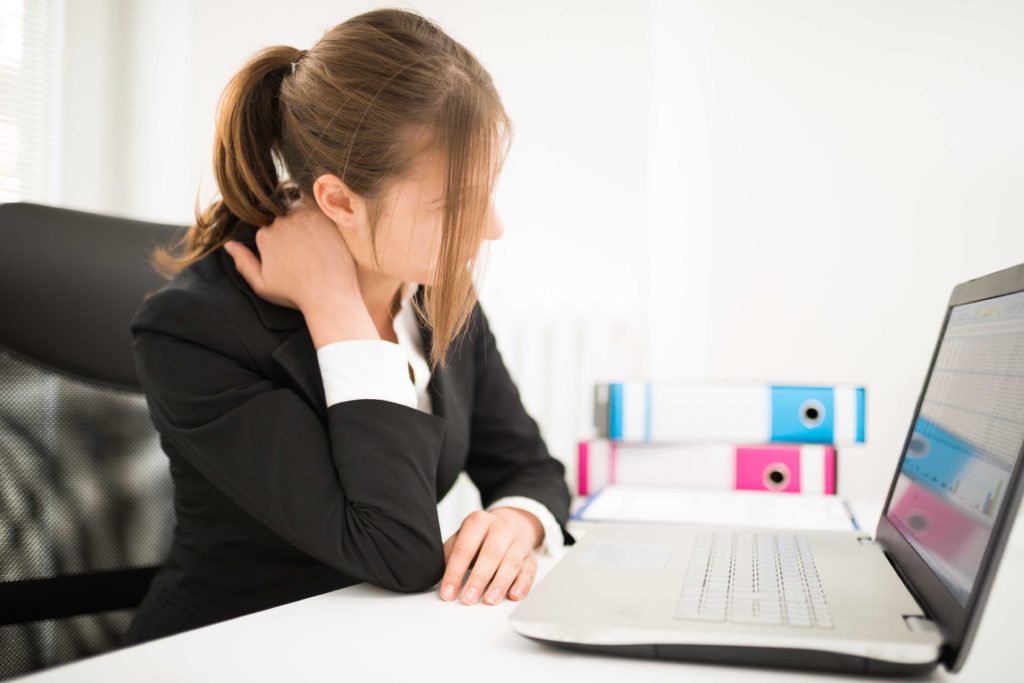 Have you ever noticed that grandma or grandpa seem to lose inches as they age and sometimes may seem to have a rounded upper back?  Well, the truth is, some of this is just the natural aging process, but there are things we can do now to prevent and correct this curving of the spine before it's too late!
WHAT CAUSES THIS?  Well, nature does play a role, however a sedentary lifestyle and time spent on computers and smart phones can accelerate the decline.   As Americans, we often don't realize how easily we are sucked into the sedentary lifestyle due to our jobs and advances in technology.  Everything is just becoming too convenient! All these things have a detrimental effect on our posture, which, in turn, can have other consequences on our bodies.
THIS CAN LEAD TO OTHER ISSUES: Yes, that's right, other than the physical effects posture has on your outward appearance, bad posture also affects you in other ways.
HEADACHES: Looking down at your desk, phone or computer causes a forward bend in your neck. Staying in this position for an extended period or even short periods several times throughout the day can cause headaches. Why?  Well, when you are hunched over and looking down, you are decreasing the curve in your cervical spine putting excess strain on the muscles in the back of your neck as they are working overtime to keep your head from falling. This excess strain on those muscles is one of the many reasons you can get headaches.
DIGESTION: Sitting with bad posture for longer periods can also have an effect on your digestive organs. Just picture your organs all curled up in the normal position and then picture them with them folded over on each other with an extra 20 lbs of pressure on them. Does that give you an uncomfortable visual? This bad posture is putting extra pressure on your digestive organs, not allowing them to function properly.
POOR MOTIVATION: Not many of us think of poor posture being related to motivation, but it is. Studies have shown that being hunched over causes increased emotions of fearfulness, low self-esteem and having higher chances of being in a bad mood.
BACK: Your body has 3 natural curves: cervical, thoracic and lumbar.  When slouching for long periods of time, whether in the car, at work, on the sofa, day after day this can negatively affect your back and put increased pressure/ stress on different areas. The longer the behavior occurs the more negative effects it can have on your body by putting your body in this unnatural position.
The bottom line is, proper posture keeps you in a position that causes the least amount of strain on your muscles and ligaments.
So, what can we do to improve our posture?
Maintaining the proper posture after having bad posture is work and it takes time, however it is worth it! You need to be consciously aware of your body's position.  The following are suggested positioning for seated and standing posture.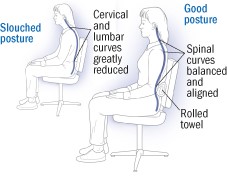 SEATED: When in a seated position you should have your feet planted on the floor or a foot rest if your legs are too short for the chair. Keep feet in front of your body and do not cross your legs.  Your knees should be at a 90-degree angle with the seat of the chair far enough away from the back of your knees to create a gap. Your back should be in an upright position with low and mid back support. Shoulders are relaxed, and elbows bent at a 90-degree angle (forearms parallel to the ground).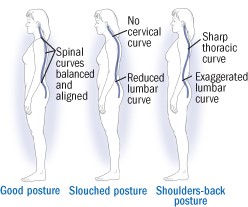 STANDING: When standing, most of your weight should fall on the balls of your feet. Knees should be slightly bent and hip width apart. Your back should be upright and tall with your shoulders pinched back. Pulling your tummy in will give your back some extra support. Your head should be held high and level.
* images from www.health.harvard.edu
Again, improving your posture is not always easy. It will take a conscience effort!   Put a timer on your phone or a sticky note on your desk as a reminder for yourself. If your car or seat at work is not providing you with the correct amount of low and mid back support, you can roll up a towel and place in the area you are lacking support.  Over time good posture will put less strain on your body.
Here is a great video with some quick tips on proper posture while on the computer
CLICK HERE for some great workday stretches!
If you have any questions about posture or what exercises you can do to help, feel free to contact a therapist at one of our offices to make an appointment. We would love to help you achieve your goals!
Krystle Groff, Physical Therapy Assistant