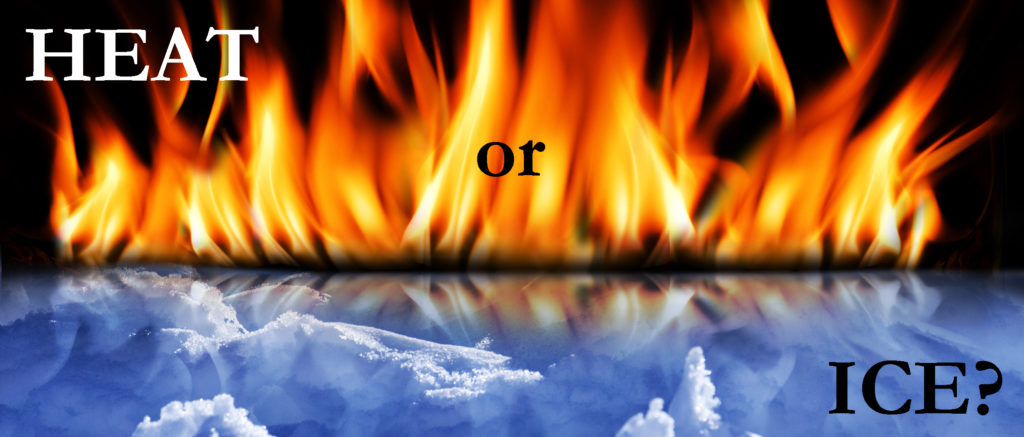 When it comes to managing symptoms at home, many patients report they avoid utilizing adjuncts, including heat and ice, due to a lack of knowledge on which one they could, or should, be using. It is important to have more tools in our back-pocket for managing pain levels (and other symptoms such as swelling & bruising) especially for patients who are not able to make it into the office for an appointment. Both heat and ice work in different way to change the way our nerves sense pain and the way our brain processes the pain sensation. The goal of this post is to help you understand under what circumstances each is indicated.
Ice acts as a vasoconstrictor (ie: it makes the blood vessels smaller) to allow for less blood/fluid to pass into the surrounding tissues. This is especially important following a recent, acute injury, including (but not limited to) sprains, post-operatively or a gout flare up because these traumas initiate their own inflammatory process.  While some inflammation is necessary to the overall healing process, promoting extra inflammation through the use of heat during this time is not recommended. Ice is particularly important in the first 24-48 hours following a new injury, and while there are varying definitions of acute and chronic based on the type of injury, utilizing ice to decrease inflammation can often be a benefit to healing up until the six week mark.
Here are some additional tips to consider when applying ice:
Total time of use in one sitting should not exceed 15-20 minutes, as frostbite could occur.
Ice packs should never be placed directly on the skin. Instead try wrapping the ice pack in a thin towel.
Allow 2-3 hours in between sessions and then ice again.
For maximum inflammation reduction, it is recommended you elevate the affected area above your heart; keeping the area below the level of your heart, such as in a recliner, is not a sufficient elevation height to remove this excess fluid from an extremity.
Ice should be avoided if you have been previously diagnosed with: Raynaud's disease, allergies to cold temperatures, impaired circulation (including peripheral vascular disease or blood clots), and on open wounds. It is important to be cautious with your use of ice if you have a history of hypertension, sensory deficits, such as from neuropathy, or Rheumatoid conditions.
Heat, on the other hand, acts as a vasodilator (ie: the circumference of the blood vessels expands) to promote an increase in blood flow to the tissues. Heat can be an important tool when dealing with chronic pain, muscle tightness, and arthritis. Heat helps to promote relaxation, relieve stiffness and reduce muscle spasm. As a result, you'll often find increased motion at the impacted joint and improved pain levels.  If you find that your joints/muscles feel better after a nice warm shower/bath, heat is probably for you. If you are beyond the six week mark of an acute injury, you are also likely ready to try heat (if you prefer heat to ice).
There are many different heating methods for use at home, most commonly including moist heat and heating pads. Here are some tips for proper use of heat:
Heat should be applied for bouts of 15-20 mins as this gives the underlying tissues time to heat to their optimal temperature to have some of the effects previously mentioned.
There is no hard and fast rule of how many times per day you can heat, however it is important to monitor the skin for signs of burns (including redness, blistering) or to have someone in your home who can help monitor this if you do not feel you are sufficiently able to on your own.
It is important NOT to fall asleep while utilizing a heating pad, as this can lead to burns and presents a fire hazard.
Moist heat packs should be wrapped in 6-8 layers of towels to prevent possible burns; laying directly on a moist heat pack should also be monitored as this can speed the heat transfer process and lead to faster negative skin changes.
Heat should not be used in these instances: over an area of malignancy, presence of acute musculoskeletal trauma, arterial disease, bleeding or hemorrhage, over an area of compromised circulation, in presence of peripheral vascular disease or thrombophlebitis, areas where you have recently applied a heat rub/cream.
If you are at home without access to a traditional hotpack, here are some other ideas:
Fill half an old sock or ziploc bag with uncooked rice, tie or sew shut & microwave for 1-2 mins (start with less time and go up if needed, don't put ziploc bag directly on skin)
Soak a kitchen towel in hot water and put in ziploc bag (or put wet towel in ziplock bag. (Do not seal bag when microwaving) Heat for 1-2 minutes.
*Be sure to test heat prior to applying. If too hot, use a kitchen towel or paper towels as a barrier until it cools down.
Should you have further questions on managing your symptoms independently, please do not hesitate to reach out to the staff at HARTZ PT.