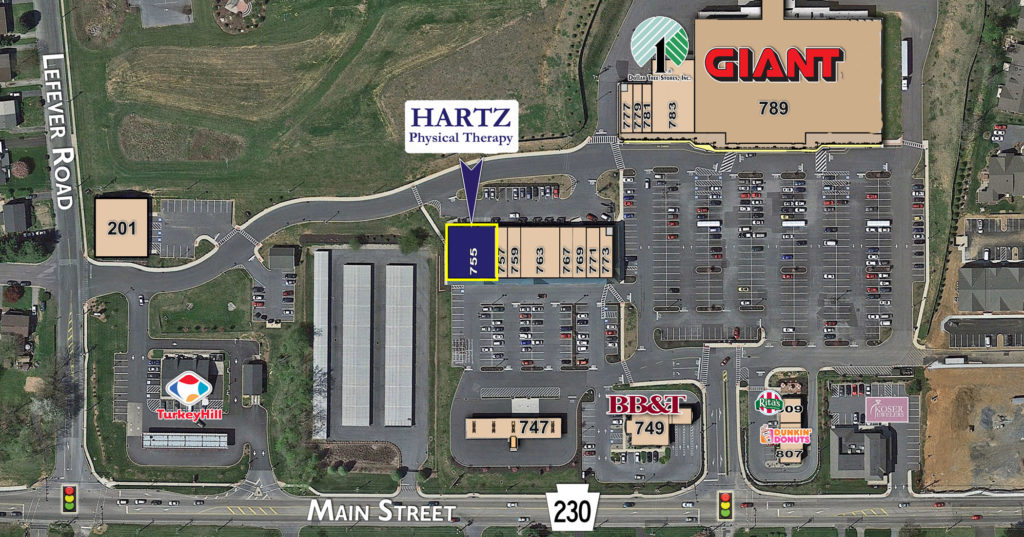 Our Mount Joy clinic features a spacious 5,000 square foot layout with a full range of therapy equipment as well as private patient rooms, locker rooms and aquatic therapy.  There is plenty of space to ensure your safety while you rehabilitate your injury.
HARTZ Physical Therapy is a local, independent small business, born and raised in Lancaster County, exclusively serving the Lancaster County community .  We are committed to providing not only the highest quality care to our patients, but also a top notch customer service experience, something that can be lacking in the medical profession.  We are excited to be a part of the thriving Mount Joy community and invite you to Experience the Difference that HARTZ PT can make in your recovery!
CLICK HERE to for more information or to request an appointment
Phone:   (717) 492-8708
Fax:        (717) 492-8713
Address: 755 East Main Street, Mount Joy, PA 17552
Hours of Operation:
Monday:            7:00am – 6:30pm
Tuesday:          7:00am – 12:00pm
Wednesday:    10:30am – 7:00pm
Thursday:        10:30am – 7:00pm
Friday:               7:00am – 3:30pm
Hours of Operation (Medically-Adapted Gym): The Mount Joy location of our MAG is currently closed due to COVID-19.  Please contact Aaron Brustad with any questions.