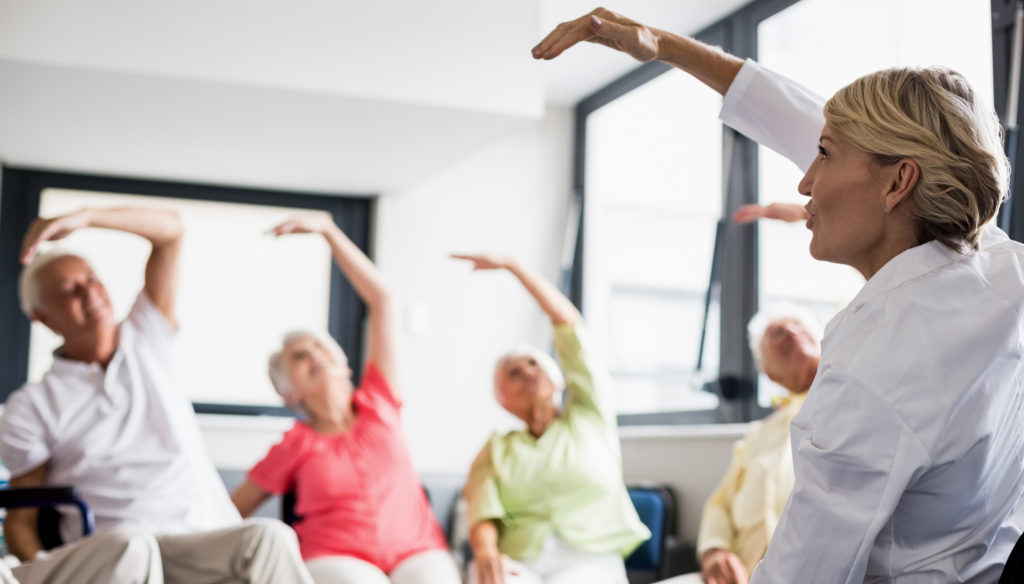 We all know it's true…cultivating a healthy lifestyle is a choice that we make on a daily basis.  But what if our bodies are making it more and more challenging to make that choice?  With age, our ability to participate in regular standing exercises can decline and  sometimes, just staying on our feet can be challenging enough!  This decline happens for many different reasons including pain from osteoarthritis or balance deficiencies.
However, the good news is, there are other options for those who have difficulty standing or balancing for prolonged periods of time.
Chair Yoga is one of those options.
Yoga is an excellent way for older adults to loosen and stretch painful muscles, reduce stress, and improve circulation. It also reduces anxiety, helps lower blood pressure, protects joints, and builds strength and balance.  Utilizing various modifications to traditional yoga poses and balancing exercises, chair yoga can achieve many of the same health benefits, while significantly reducing the stress on muscles and joints.  The chair provides support for traditional standing poses, which are modified to be performed while sitting in the chair.
A recent study on Chair Yoga conducted at Florida Atlantic University showed pain reduction, improved mobility and improvement of security and well-being.  This 8 – week program was the first to show Chair Yoga as an alternative treatment for lower extremity osteoarthritis.  In fact, the Arthritis Foundation recommends yoga to improve joint pain, improve flexibility, balance and reduce stress and muscle tension.
If you are someone who has osteoarthritis, trouble with standing exercise or are just looking for a new low impact alternative to regular exercise, you may want to consider adding a Chair Yoga program into your weekly routine.  Yoga adds not only a low impact physical component to your routine, but also a mental one by calming and relaxing participants.  Inevitably this can lead to a greater feeling of happiness and well-being…from which everyone can benefit!
If you'd like more information about Chair Yoga, please contact HARTZ Physical Therapy at 717-735-8880.  We are introducing a Chair Yoga class which will be held at 90 Good Drive, Suite 201 on Tuesdays from 12pm-1pm. The class will be led by certified yoga instructor and current PT Assistant at Lancaster-West, Michelle Newman!  We invite you to join us!  In the meantime, try some chair yoga stretches at home.  Be sure to avoid stretching beyond your comfort level.  Keep it gentle and breathe!