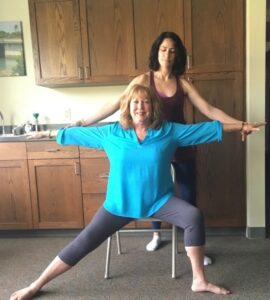 Chair Yoga is an excellent way for older adults to loosen and stretch painful muscles, reduce stress, and improve circulation. It also reduces anxiety, helps lower blood pressure, protects joints, and builds strength and balance.  Utilizing various modifications to traditional yoga poses and balancing exercises, chair yoga can achieve many of the same health benefits, while significantly reducing the stress on muscles and joints.  The chair provides support for traditional standing poses, which are modified to be performed while sitting in the chair.
"HARTZ Physical Therapy's new chair yoga class has been a wonderful experience for me. Having had a total hip and total knee replacement in the past, doing most yoga positions had been difficult for me.   Michelle is a very knowledgeable instructor and has such a calming presence on the class. Her physical therapy education paired with her yoga training allows for a class that is designed specifically for me. I have found that this class has helped me with posture, core strengthening and even dealing with stress.  I would highly recommend this class." ~ Liz M
Classes are held Wednesdays from 12:45pm – 1:45pm at 90 Good Drive, Lancaster.  Drop ins are welcome! 
If you have questions about Chair Yoga, please call us at 717-735-8880 or email Physical Therapist Assistant and Certified Yoga Instructor, Michelle Newman at chelleb52@gmail.com