No One Has to Face MS Alone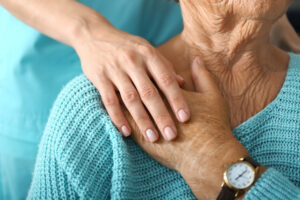 Physical therapy for Multiple Sclerosis will look different than physical therapy that you would get after a knee replacement or a rotator cuff injury. Therefore, It is especially important to find a physical therapist who has the experience and training to help people with MS regain and
maintain strength, flexibility, and general fitness so they can live active, productive lives.
Each person with MS has a different presentation. The neurological physical therapists at HARTZ PT will create a treatment plan that will help you achieve your specific goals and improve your quality of life.
Our Services
HARTZ Physical Therapy's specialized neurological physical therapists have years of experience treating neurological patients. They have a better understanding of disease progression and stay up to date on research in order to provide the most beneficial care.
Your therapist will help you with the following:
Use of Adaptive Equipment
Use of Assistive Devices
Increasing Activity Level
Cardiopulmonary Health
Resource Accessibility
Evolving Symptoms
Caregiver Training
Trunk Positioning
Fatigue
Balance
Strength
Posture
Mobility
Exercise
Fall Risk
Flexibility
Treatment may include:
Working on specific activities that you have difficulty with at home.
Use of LiteGait body weight support system to ensure safety during rehab as well as adaptive equipment training and practice.
Muscle stimulation and strengthening to improve function in daily tasks.
Incorporating excercise & activities to help problem solving & improve cognitive function.
Challenging you by changing the environment
Challenging you through multi-tasking during activities
Incorporating problem solving into activities
Using various types of cues including visual, tactile, and verbal feedback
Please fill-out our 'Contact Form' to reach our neurological physical therapist Greta Myers with questions or to get scheduled for an initial examination at our Lancaster West office.
We are an MS Partner in Care
HARTZ PT is excited to announce that we are now a Partner in MS Care.  Partners in MS Care are healthcare providers who have demonstrated knowledge and expertise in treating patients with MS. These providers have a relationship with the National MS Society that helps connect their patients to the information, resources and support available to them to live their best lives with MS.
HARTZ PT now has increased access to programs, services, and resources for their patients through the MS Society. Partners in MS Care go through a review process where their knowledge and expertise in MS is vetted by a committee of their peers. To become a Partner in MS Care, HARTZ PT has demonstrated:
A Minimum of 20% of patients treated are diagnosed with MS and/ or another neurologic, chronic illness
Minimum of 2 years clinical experience with MS throughout our offices
HARTZ PT is committed to practice evidence based care
HARTZ PT has a committed relationship with the MS Society
HARTZ PT routinely communicates and collaborates with other clinicians who are treating our patients
Offices meet basic accessibility standards
The team at HARTZ PT looks forward to helping patients with MS achieve their functional and physical goals.