Written by Greta Myers, DPT, NCS, CSRS, PWR! Moves Therapy & Certified Stroke Rehab Specialist
Exercise, Health & Wellness, Parkinson's Disease, Physical Therapy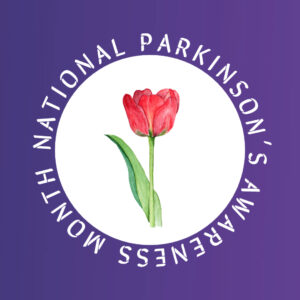 In honor of Parkinson's Disease Awareness Month I wanted to introduce my patient Paul.   Paul was diagnosed with Parkinson's Disease in 2011 and I have been treating him since November 2022.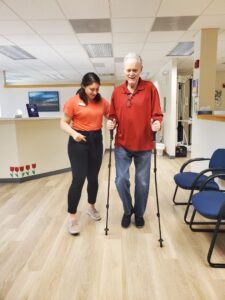 During this past year Paul had a few falls and needed to be hospitalized. When he was released from the hospital he was only able to walk short distances, lost his balance going backwards, and experienced freezing of gait (a phenomenon that occurs with Parkinson's Disease where someone's feet feel 'glued' to the ground and they cannot move them). He was frustrated and his family was concerned.  This is typical for many PD patients and a specific rehabilitation plan is key. According to Paul, he came to HARTZ because of our specialty in working with people with Parkinson's.  We currently have two therapists certified in Parkinson's Wellness Recovery (PWR!) and LSVT Big.
When Paul and I began therapy together, he needed help getting up from a chair and he required a walker.  Over the past two months he has worked hard on the various aspects of his therapy especially those focusing on strengthening his legs, balance, and decreasing his freezing of gait.
Paul's therapy has included Parkinson's specific exercises and many involved functional activities that are important to his daily life. We have worked on standing, balance, turning, and transfers. Transfers are the procedure of being able to move from one surface to another such as from sitting to standing.  He has also worked on Parkinson's Wellness Recovery (PWR!) moves. PWR! Moves are four basic moves that can be adapted by a certified physical or occupational therapist to meet the person's needs. They target the four foundational skills that affect every day mobility for someone with Parkinsons.
Tall Posture
Weight Shifting
Trunk Mobility
Stepping
These moves are completed in various positions based on the person's ability and goals including sitting, standing, laying on your back & stomach, or on hands and knees. The basis of the moves is to improve posture, rigidity (stiff or inflexible muscles which can lead to pain and/or muscle cramps), freezing of gait, and weight shifting (being able to alternate your weight between feet so you can step forward.) During our work together Paul focused on these hallmarks of Parkinson's Disease.
Over the course of a few weeks Paul has made tremendous progress.   He is falling less and walking with trekking poles instead of a walker! These walking poles help him improve his weight shifting and safety to prevent freezing of gait while still providing some support. He feels more confident walking around his home and can keep up on walks with his daughter.  Now she is having a hard time keeping up with Paul.
I want to thank Paul for graciously allowing me to share his story and how he fought  against Parkinson's.  There is life outside of Parkinson's Disease.  As a neurological physical therapist, I have a passion for working with people with neurological diseases to help them live their BEST life. If you have any questions or want help getting started feel free to email me at gmyers@hartzpt.com or call me for a FREE phone consultation at 717.735.8880.
We also coordinate a monthly Red Rose Parkinson's Support Group and Lecture Series which has created a community and made connections for people with Parkinson's and their caregivers in Lancaster county.  We meet on the first Wednesday of each month.  For more information on our Parkinson's treatments and our support group CLICK HERE.