HARTZ Physical Therapy is excited to announce an expansion of services to include full-service outpatient neurological physical therapy. There is a clear demand for these services in Lancaster County to enable many who are suffering from neurological conditions to regain function and independence, thereby increasing their quality of life following a serious medical event.
Our neurological therapy program specializes in treating patients with the following diagnosis:
Stroke (Cerebral Vascular Accident CVA)
Traumatic brain injury (TBI)
Amputation
Spinal cord injury (SCI)
Parkinson's disease
Multiple Sclerosis
Mild Brain Injury/Concussion
Guillain-Barre Syndrome
Peripheral Neuropathy
Vestibular Disorders
Balance Disorders
Dystonia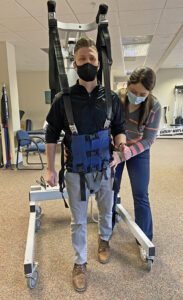 Physical therapy appointments will be customized to the symptoms and conditions of each individual patient.  The goal of each visit is increasing physical independence through a combination of manual techniques as well as focused therapeutic exercise, neuromuscular re-education, and patient education.
We have several therapists who specialize in treatments for various neurological conditions.  Please review the following biographies for further information or call our Lancaster-West office for more information: 717-735-8880
Lancaster-West office: Greta Myers, DPT (specializing in all of the above)
Lancaster-East office: Beth Kaufman, DPT, GCS  (specializing in treatment of Parkinson's Disease and Multiple Sclerosis)
Lancaster-East office: Alec Levesque, DPT (specializing in vestibular/balance and concussion cases)
Lititz office: Kevin Sisbarro, DPT (specializing in vestibular/balance and concussion cases)