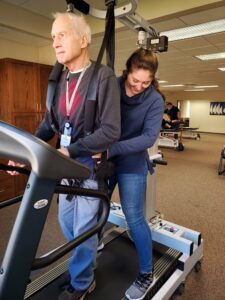 HARTZ Physical Therapy offers a comprehensive outpatient neurological physical therapy program that will help people regain function, independence and a better quality of life after suffering a neurological injury or disease.
We have several therapists who specialize in treatments for various neurological conditions.  Please review the following biographies for further information or call our Lancaster-West office for more information: 717-735-8880.
Lancaster-West office: Greta Myers, DPT, Board Certified Neurological Clinical Specialist (NCS), PWR! Moves Therapist & Certified Stroke Rehab Specialist (specializing in neurological physical therapy)
Lancaster-East office: Beth Kaufman, DPT, GCS, LSVT® BIG Certified  (specializing in treatment of Parkinson's Disease and Multiple Sclerosis)
Lititz office: Kevin Sisbarro, DPT (specializing in vestibular, balance and concussion cases)
Our neurological therapy program specializes in treating patients with the following disorders:
Stroke (Cerebral Vascular Accident CVA)
Traumatic brain injury (TBI)
Amputation
Spinal cord injury (SCI)
Mild Brain Injury/Concussion
Guillain-Barre Syndrome
Peripheral Neuropathy
Dystonia
Your therapist will help you with the following:
Balance
Walking & Limited Mobility
Arm & Leg Movements
Stability
Chronic Pain & Neuropathy
Endurance
Transfers & Fall Risks
Fatique
Poor Posture
Loss of Motor Control
Treatment may include:
Trialing AFOs to determine the best fit to improve walking speed and safety.
Personalized moderate to high intensity aerobic training that mobilizes neural mechanisms in the
brain which create new pathways to help movement and muscle activation.
Functional Electrical Stimulation to increase muscle recruitment during training which can
improve both walking with foot drop and movement after Botox injections.
Use of LiteGait to relearn basic walking skills, increase strength and endurance, and
promote neuroplasticity.
PNF training to improve gait and increase coordination of movements.
Use of external verbal & visual cues during movement exercises to improve balance and
overall motor performance.