DREW NESBITT, DPT, OCS, Vestibular Specialist
(Physical Therapist, Clinic Director)
Education:

BS, Biology, East Stroudsburg University, Doctorate, Physical Therapy, Arcadia University, Certified Vestibular Specialist, Emory University
Certifications:
Board certified Orthopedic Clinical Specialist (OCS), Vestibular Rehabilitation
Highlights and Specialties:
Drew has been with HARTZ PT since 2007. Drew enjoys treating both orthopedic and neurologic diagnoses.  He has achieved an APTA certificate in Vestibular Rehabilitation after completing the Competency-Based Course in Vestibular Rehabilitation at Emory University. (This is the highest degree of vestibular certification available in the US.) Drew also has had training treating Temporomandibular joint disorders from the University of Pennsylvania.  In addition, as a current competitive runner, Drew has a unique perspective on the mindset of an endurance athlete, which allows him to excel in the treatment of overuse injuries.  Drew is also the creator of our Running Clinic.  He is a member of the American Physical Therapy Association (APTA) and of the Pennsylvania Physical Therapy Association (PPTA)
BETH KAUFFMAN, MPT, LSVT® BIG Certified (Physical Therapist)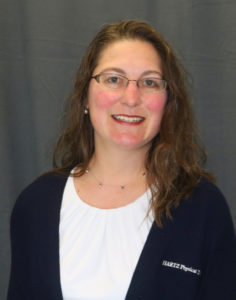 Education: Masters of Physical Therapy, Chatham College, B.S. in Movement Sciences, University of Pittsburgh
Certifications:
Certified Athletic Trainer and APTA Certified Clinical Instructor
Highlights and Specialties:  A native of Lancaster County, Beth has been practicing as a Physical Therapist since 1999 when she joined Kauffman Physical Therapy.  In 2018, HARTZ PT joined forces as with Kauffman PT and Beth is happy to continue serving her patients with the combined company.  Beth recently completed the LSVT® BIG certification which is an exercise treatment program focused on training people with Parkinson's disease (PD) to use their body more normally.
In addition to direct patient care, she is a keen promoter of health and wellness. She also stays current on the latest literature on nutrition and diet.  A Certified Athletic Trainer, Beth is recognized for her work helping athletes maintain peak agility. Beth contributed to the chapter, "Aquatic Therapy" in the Comprehensive Guide to Geriatric Rehabilitation – 3rd edition. She wrote chapters on aquatic therapy for the Geriatric Rehabilitation Manual, editions 1 and 2. She also wrote "The Vestibular Component in Gait and Balance Dysfunction" that was published in journal Rehab Management, 2013.
You might catch Beth on the sidelines as medical support to teams like the Warwick Swarm Rugby Club and other sporting events. She enjoys swimming, yoga, and traveling.
WENDY ENCK (Physical Therapy Assistant)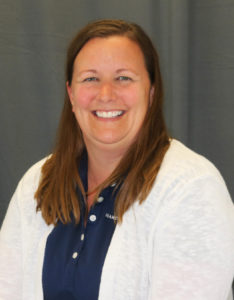 Education:
BS, Sports Management, Towson University
AS, Physical Therapy Assistant, Central Penn College
Highlights and Specialties:
A HARTZ PT team member since 2001, Wendy enjoys helping patients achieve a full recovery.  She has a special interest in aquatic therapy and has worked with the United States Water Fitness Association. She is also working to obtain her Aquatic Therapy Clinical Competency for the PTA.  Wendy, along with the other treating staff at Lancaster East, are working to create a more comprehensive and well rounded aquatic therapy program. She is a member of the American Physical Therapy Association (APTA), and of the Pennsylvania Physical Therapy Association (PPTA).  In addition, she was awarded the Advanced Proficiency for Physical Therapist Assistants from the APTA.
Wendy is also the long-time Race Director of our annual fundraiser, the Fall Blast 5K.
When not at work, you can usually find Wendy somewhere in the Delaware coastal waterways training for her next long distance open water swimming event.  She is also the head coach for the Cocalico swim team!
JAQUALYN BOOZ (Physical Therapist Assistant)
Education: AS, Physical Therapy Assistant, Central Penn College

Highlights and Specialties:  Jacqualyn speaks German fluently and had the opportunity to do some schooling in Bad Beuren, Germany. She came to HARTZ PT through our merger with Kauffman Physical Therapy.  In college, Jacqualyn played volleyball for her college team.  Jacqualyn works part-time seeing patient with Beth Kauffman, DPT.
When not in the office, Jacqualyn enjoys spending time with her large family and friends in addition to staying active outdoors with her husband.
JASMINE LINDER (Patient Care Coordinator)
Education:
BA, Sociology/Human Resources, University of Arkansas at Little Rock
Highlights and Specialties:

A Hartz PT Team Member since 2019, Jasmine enjoys greeting patients with a smile and a joke in the Lancaster East office. Her favorite part of being a the Front Desk Coordinator is learning patients quirks and charms and making their day a bit brighter in small ways.
When not in the office you can find her busy with her local book club, husband and large family.