ALEC LEVESQUE, DPT, (Physical Therapist, Clinic Director)
Education: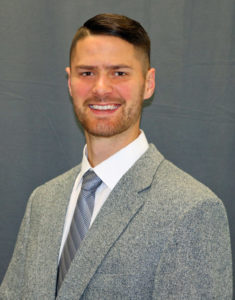 BS, Ithaca College, Clinical Health Studies, with minors in Sports Psychology and Outdoor Recreation. Alec stayed at Ithaca to receive his Doctorate in Physical Therapy, graduating magna cum laude and receiving the prestigious Presidential Scholarship.
Highlights and Specialties:
Shortly after finishing school, Alec and his wife (also a PT) decided they wanted to travel the United States and practice physical therapy in different states. So, they became contractors and worked in Arizona, Alaska and Maryland.  Alec enjoyed being a contract physical therapist because he was required to learn and adapt quickly. He has developed special interests in movement science, postural restoration, sports medicine and neuromuscular education. He brings a multifaceted approach to patient care and loves educating patients on their human anatomy and design.
Outside of work, Alec loves being involved in his local church community. He also loves spending time with his family and enjoys a host of outdoor activities, such as skiing, hiking, running and golf. He enjoys playing basketball and lacrosse and is a huge fan of Boston sports teams. Go New England!
BETH KAUFFMAN, MPT, LSVT® BIG Certified (Physical Therapist)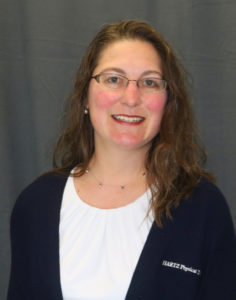 Education: Masters of Physical Therapy, Chatham College, B.S. in Movement Sciences, University of Pittsburgh
Certifications:
Certified Athletic Trainer and APTA Certified Clinical Instructor
Highlights and Specialties:  A native of Lancaster County, Beth has been practicing as a Physical Therapist since 1999 when she joined Kauffman Physical Therapy.  In 2018, HARTZ PT joined forces as with Kauffman PT and Beth is happy to continue serving her patients with the combined company.  Beth recently completed the LSVT® BIG certification which is an exercise treatment program focused on training people with Parkinson's disease (PD) to use their body more normally.
In addition to direct patient care, she is a keen promoter of health and wellness. She also stays current on the latest literature on nutrition and diet.  A Certified Athletic Trainer, Beth is recognized for her work helping athletes maintain peak agility. Beth contributed to the chapter, "Aquatic Therapy" in the Comprehensive Guide to Geriatric Rehabilitation – 3rd edition. She wrote chapters on aquatic therapy for the Geriatric Rehabilitation Manual, editions 1 and 2. She also wrote "The Vestibular Component in Gait and Balance Dysfunction" that was published in journal Rehab Management, 2013.
You might catch Beth on the sidelines as medical support to teams like the Warwick Swarm Rugby Club and other sporting events. She enjoys swimming, yoga, and traveling.
WENDY ENCK (Physical Therapy Assistant)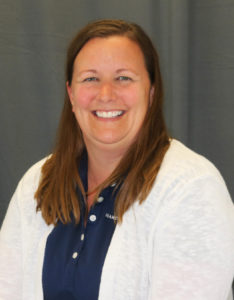 Education:
BS, Sports Management, Towson University
AS, Physical Therapy Assistant, Central Penn College
Highlights and Specialties:
A HARTZ PT team member since 2001, Wendy enjoys helping patients achieve a full recovery.  She has a special interest in aquatic therapy and has worked with the United States Water Fitness Association. She is also working to obtain her Aquatic Therapy Clinical Competency for the PTA.  Wendy, along with the other treating staff at Lancaster East, are working to create a more comprehensive and well rounded aquatic therapy program. She is a member of the American Physical Therapy Association (APTA), and of the Pennsylvania Physical Therapy Association (PPTA).  In addition, she was awarded the Advanced Proficiency for Physical Therapist Assistants from the APTA.
Wendy is also the long-time Race Director of our annual fundraiser, the Fall Blast 5K.
When not at work, you can usually find Wendy somewhere in the Delaware coastal waterways training for her next long distance open water swimming event.  She is also the head coach for the Cocalico swim team!
KRYSTLE GROFF (Physical Therapy Assistant)
Education: BS, Psychology/Biology from Lebanon Valley College, AS, Physical Therapy Assistant, Central Penn College

Highlights and Specialties:  Krystle came to HARTZ PT through our merger with Kauffman Physical Therapy.  She was an avid swimmer in high school and has first hand knowledge of rehabilitation of a lower extremity. She also has an interest in orthopedics and the application of manual therapy.  She is a member of the APTA and PPTA.  Krystle works with Brandi seeing patients in our Lititz office.
When not at the office, Krystle enjoys spending time with her husband and twin daughters as well as hunting, spending time outdoors and training for Aquabike races.
KELLY PYLE (Administrative, MAG)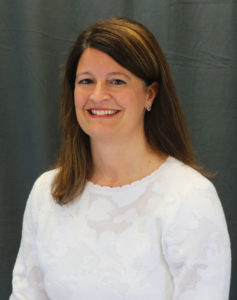 Education:
BS, Exercise Science, University of Delaware
Highlights and Specialties:
A HARTZ PT team member since 2001, Kelly has worn many hats at HARTZ PT, working primarily with Brian for many years in patient care.  You will occasionally see Kelly filling in at the front desk as well as helping behind the scenes with some administrative duties.
When not at the office, Kelly enjoys watching her daughters play sports at Warwick and Ohio State and spending time with family and friends.